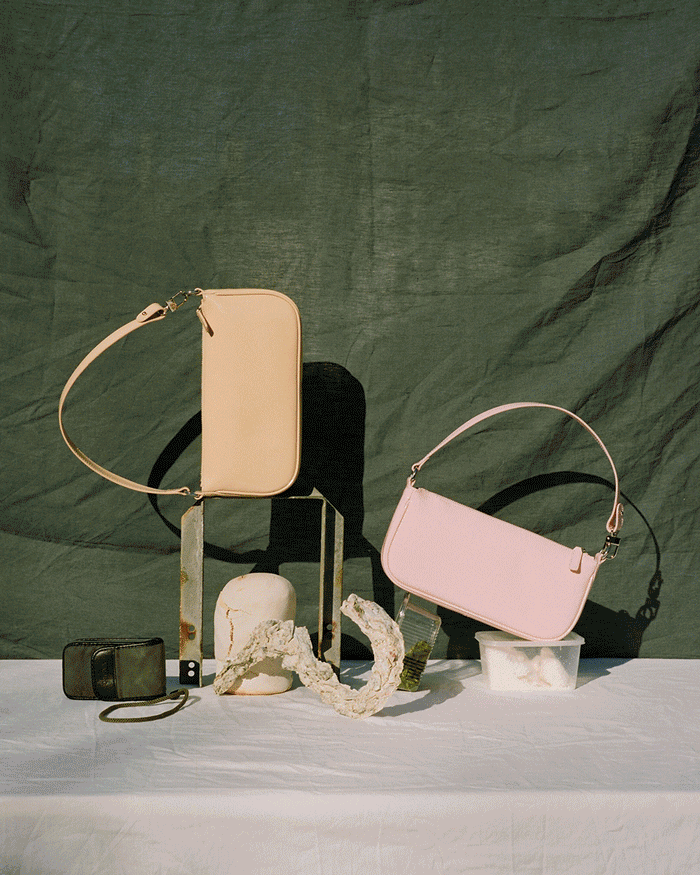 What do you get when you pair contemporary Scandinavian design with authentic Italian craftsmanship? ATP ("All Tomorrow's Parties") ATELIER: the shoe and, more recently, handbag label founded by Jonas Clason and Maj-La Pizzelli. Local artisans in Puglia use premium vegetable-tanned Tuscan leather to craft each piece for premium results.
WHY DO WE LOVE IT?
The cool chunkiness of the collection's DNA.
Those strappy, 90s-inspired sandals everyone is wearing? Probably BY FAR. After gaining a cult following for their shoes, the design trio — twin sisters Valentina and Sabina and their best friend Denitsa — have launched statement structured bags this season, and we're expecting another huge hit on our hands.
WHY DO WE LOVE IT?
For giving us a string of street-style hits that feel both nostalgic and so now.
While founded in 1927, CASTAÑER's big break came in the 1970s when they designed the first wedge espadrilles for Yves Saint Laurent. Today, the brand remains the crème de la crème of espadrilles, with countless celebrities and influencers favouring its iconic styles.
WHY DO WE LOVE IT?
It's a brand that's focused on doing one thing really (really) well.
From creating products that women treasure to giving back through a permanent charity initiative that gives life-saving vaccines to children in need, handbag brand DEMELLIER is built on a pillar of empowerment. Design-wise, designer Mireia Llusia-Lindh focuses on clean lines and colours inspired by art, interiors and architecture.
WHY DO WE LOVE IT?
For creating the perfect timeless modern-woman handbag, confirmed by fan Meghan Markle.
Turkish sisters Merve and Beste Manastır are the brains behind one of Instagram's favourite handbag brands, MANU ATELIER — and we couldn't be more excited that they're serving up their unique style in the footwear arena for the first time now too. They're handcrafted in a workshop overseen by the Manastırs' father (an acclaimed leather artisan), so expect beautiful leather, interesting colour combinations and modern shapes.
WHY DO WE LOVE IT?
For giving us some of the best sculptural handbags — and now shoes — in the game.
After notching brands like Max Mara, Paul Smith and Karen Millen on her belt, designer Danielle Sassoon started PANNYY — the label named after her own affectionate nickname. Focused on versatile and high-quality bags, each piece feels contemporary, refined, feminine and the perfect amount of quirky.
WHY DO WE LOVE IT?
For offering up clean, multi-situational designs with exceptional execution.
Founded by Elza Wandler, Amsterdam-based label WANDLER has become a cult hit thanks to its minimalistic, modern handbags. Now its founder is turning her talent to shoes, offering up colour-blocked mules and pointed-toe booties that fashion-girl dreams are made of. The zebra-print ankle boots with contrast heel are a particular standout.
WHY DO WE LOVE IT?
The ultimate Scandi minimalist style updated with unexpected colours and ultra-luxe fabrics.