A Modern
Lunar

New Year

Dinner
To celebrate the Lunar New Year, Lane Crawford invites Michelin-starred chef Vicky Lau from Hong Kong's award-winning private kitchen Tate Dining Room & Bar and bespoke luxury caterer, Butler, to share her culinary philosophy, tips and tricks for creating modern Chinese dishes.
Braised Abalone with
Vegetable Curls and Tuna Jus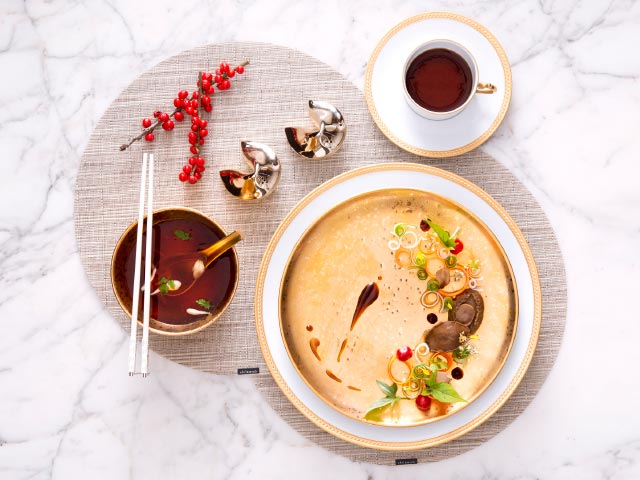 "This traditional Chinese dish is typically served with a heavy sauce. For a fresh spin, I have chosen to pair it with curls of colourful vegetables and tuna jus, which is also much lighter than the traditional version. I've used a gold plate which, like the abalone itself, is precious."
Cherry Blossom with Cherry Mousse, Yoghurt Marshmallow and Chocolate Disks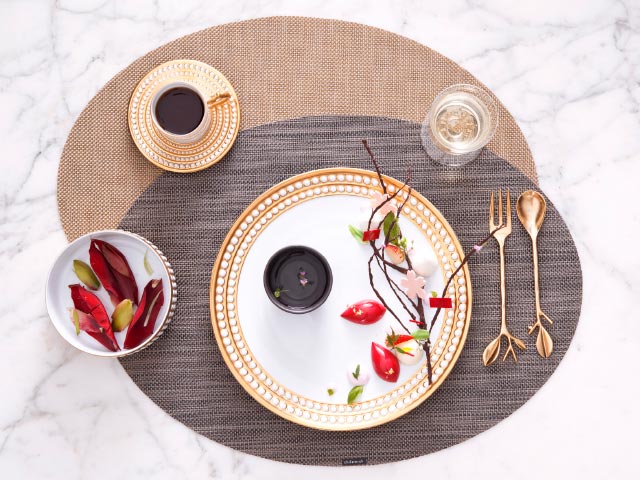 "For dessert, I wanted to recreate the cherry blossom in the spirit of a traditional Chinese painting. I used cherry mousse to create the flowers, chocolate for the branches and yoghurt marshmallow. To create the most visual impact, I've used a white plate to let the 'painting' speak for itself. This is great paired with tea or a sweet wine."
Assorted Lunar New Year Mignardises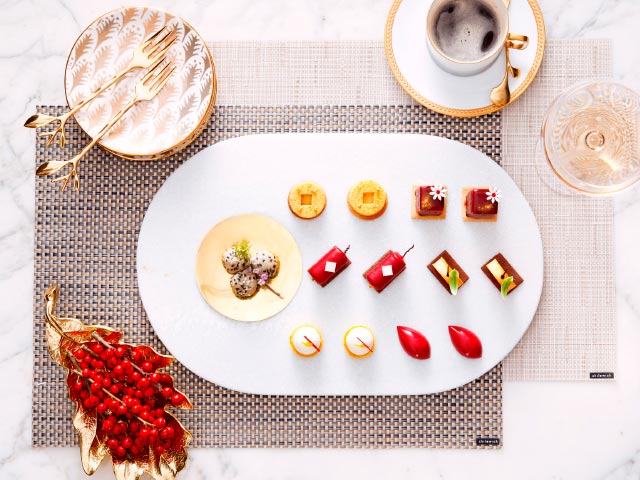 "Don't be afraid to reinvent! This is a new take on the traditional candy boxes. Instead of serving traditional candies that can be very rich, too sweet and are never finished, serve up a platter of petit fours. I've used Chinese elements to inspire each piece from the smoked chocolate mousse firecrackers to the mandarin panna cotta with dark chocolate sable and red date chocolate bon bons."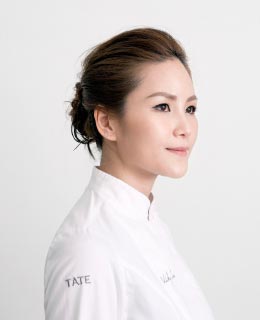 Vicky Lau
Since 2012, Michelin-starred chef Vicky Lau has been cooking up a storm from Tate Dining Room and has since launched a bespoke luxury catering service, Butler. Her unique, edible creations envisaged as 'stories' are redefining the culinary arts and has made Tate Dining Room one of Asia's hottest dining spots.