more inspiration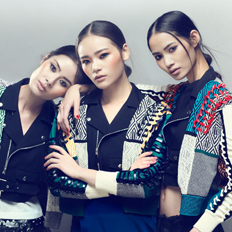 Exclusives: TOGA Archives Jackets
The latest must-have fashion essential
Shop Now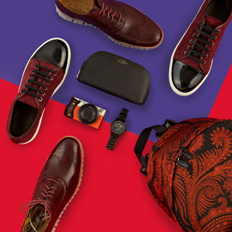 Valentine's Day Gifts For Him
Our can't-go-wrong guide for guys
Shop Now
Hair

Tristan Waikong at Salon Amarone
Makeup

Marian Woo
Model

Ceci at Supermii Model Management
Styling Assistant

Zidira Ling
Photography Assistant

Kelvin Sim and To Chan
credits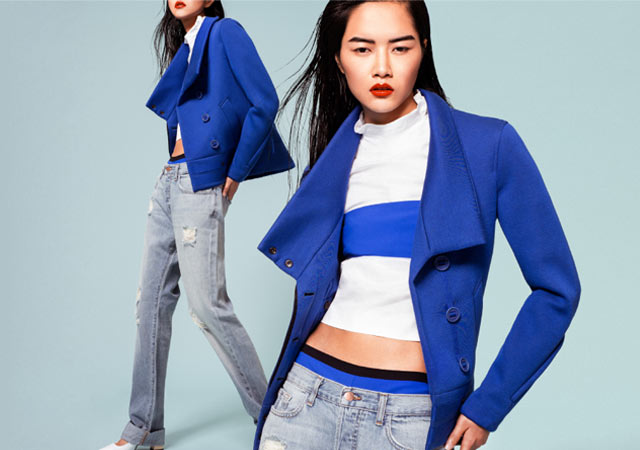 The DENIM REMIX
Words by Harriet Quick / Styling by Jolene Lin / Photography by Ricky Lo
Mark the new season with a new pair of jeans – get it right and those denims will become your failsafe for the months ahead. Right now, after years of domination, the skinny low-waister is being eased out, usurped by new contenders. After the ubiquitous "skinny" silhouette, these new iterations feel utterly fresh and new and offer diverse charms. The 1970s trend is ushering in the return of the flare; the unisex mood is embodied in the baggy boyfriend; an overall urge to look lean is making way for the high-waist look while a tongue-in-cheek nostalgia embraces the "Mom" jean. The only trick is finding the style to suit you.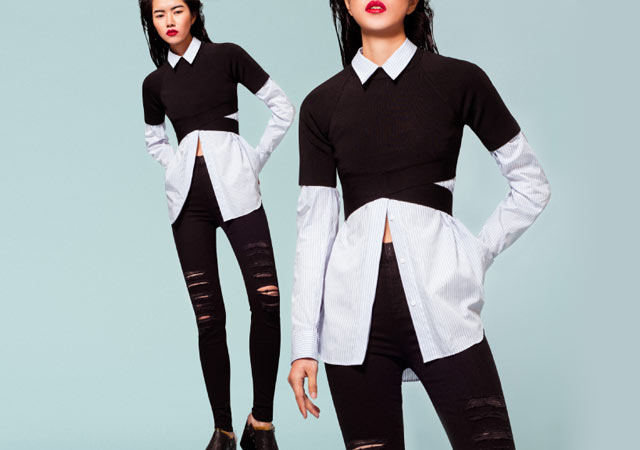 Photo Ready Maria high waist jeans by J Brand; criss cross band stretch cropped top by T by Alexander Wang, stripe open back cotton shirt by Victoria Beckham and trim floral embossed leather wooden clogs by Toga Archives.
A high waist updates the slim-legged jean – making legs appear even longer. Choose lightweight denim for a close fit, ensuring that your silhouette looks super trim. High-waisted denims speak of urban cool and ripped and torn patches give a classic punk edge. Think of Poppy Delevingne, Kristen Stewart and Alexa Chung as your icons; breathe in and zip-up.
HOW TO WEAR
Balance a high waist with a long-line cotton shirt layered with a cropped knit – consider it the new off-duty uniform.
Dark indigo and pitch-black denim flatter and slim the silhouette.
A chunky shoe or boot exaggerates the long, lean and leggy look.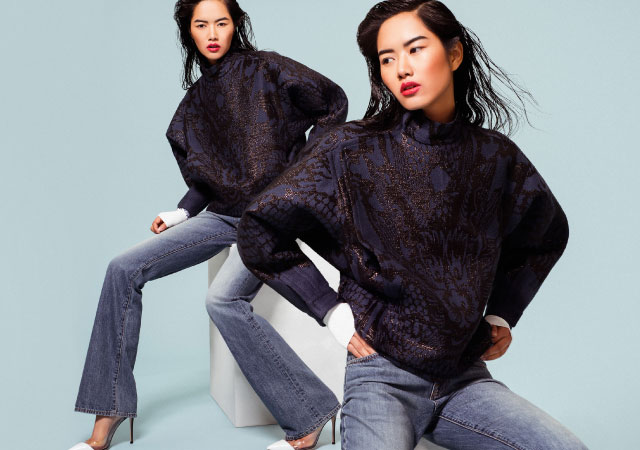 Swansong jeans by J Brand, jacquard side zip jacket by Ms Min, duo layer cotton poplin shirt by Alexander McQueen and patent leather pumps by Gianvito Rossi.
With the 1970s trend in full flush, flares enter centre stage. Mid-rise cuts, sun-faded denim, contrast stitching and patch pockets deliver an air of footloose nostalgia – Lauren Hutton, Jane Birkin and Brigitte Bardot are the ideal pin-ups. To wear flares with real flair, team with a voluminous top like a batwing sweatshirt, cropped bomber jacket or folk blouse and elegant stilettos or wedge heels. Add a shoulder bag and a long silk scarf and you will breeze through spring.
HOW TO WEAR
Let hems skim the pavement to create the illusion of height.
Choose cuts that are trim on the thigh and flare out from the knee.
Dress up a retro matchy-matchy look with an exotic skin belt and coordinating heels.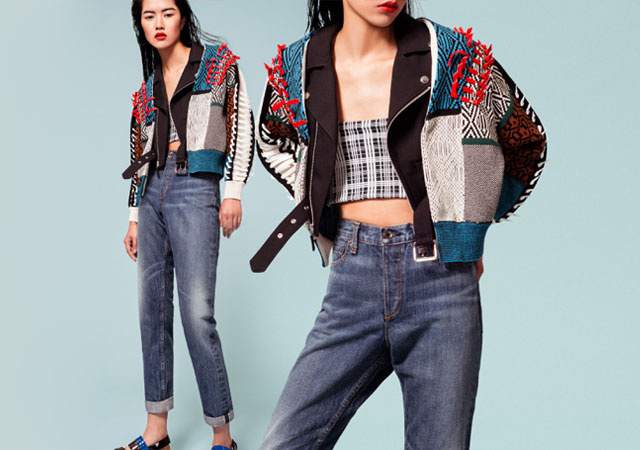 Mom jeans by Rag & Bone, ribbon jacquard cardigan combo biker jacket and check plaid cross strap bandeau by Toga Archives and crystal patent leather sandals by Marni.
With a high waist, round cut and tapered leg, "Mom" jeans (a style named after conservative "soccer moms" in the US) are the underdog in denim's makeover. Laced with irony and retro charm, they have serious fashion kudos. They look best on curvy figures and give a carefree cool attitude. Blake Lively and blogger Leandra Medine of Man Repeller head up the revival.
HOW TO WEAR
Show a little skin – ankles and a hint of midriff add a flirtatious appeal.
Artsy, crafty jackets plus bejewelled sandals elevate Mom jeans above their suburban heritage.
Play the 1990s supermodel card – dress up for evening with a little tweed jacket and heels.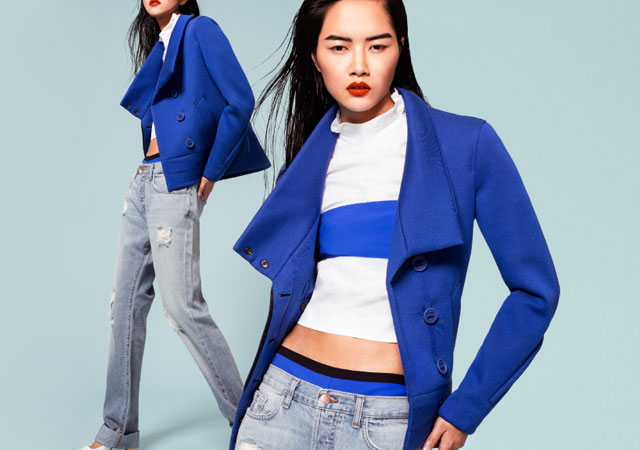 Johnny boyfriend fit jeans by J Brand, cotton poplin cropped top by Kenzo, crossover blouson scuba jersey jacket by Helmut Lang, reversible bonded tricot bandeau and swim boy shorts by T by Alexander Wang and wooden heel leather pumps by Pedder Red.
Our favourite "borrowed from the boys" jean just got baggier. Styles now slip down from the hipbones, down the thigh and end in a neat, nipped rolled-up hem. Strategic faded patches suggest that you have loved these jeans for a long time. But don't be fooled by the "comfort" look – the baggy boyfriend works because it hits that note of insouciant perfection.
HOW TO WEAR
Uplift with a chunky heeled sandal flashing out from beneath a rolled hem.
Show off a toned midriff and team with an athletic top and shorts peeping up above the waistband.
Mix faded denim with a flowing peplum top for a fresh silhouette