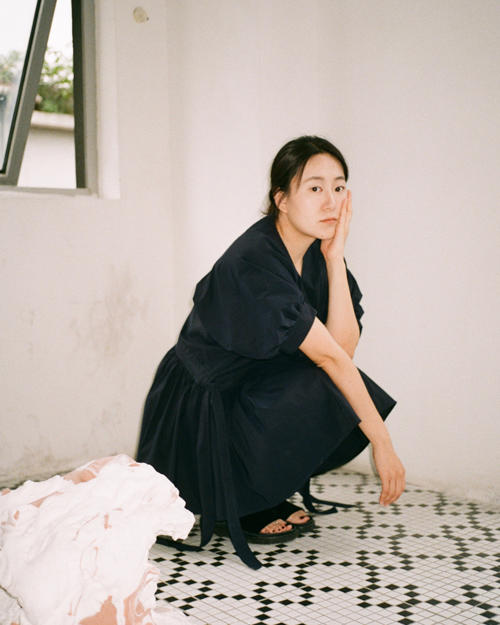 Redefining modern Chinese aesthetics through fashion
Words and photography by Bohan Qiu / Editorial assistant Raja Chin
Guan Lin believes in "honest" fashion. As a womenswear designer, an ex-New Yorker and mother of a one-year-old, the Creative Director behind Shanghai-based label Short Sentence takes a firm stance on creating high-quality, refined essentials that will stay in your wardrobe for years to come. Just like the brand's name, Short Sentence stands for elevated simplicity, and designs clothes for women on the go.

A Parsons graduate, Lin did an internship at DKNY and then worked as a designer at Calvin Klein before returning to Shanghai. Having been immersed in an environment of powerful and independent-minded women, all with open-minded, urbane spirits, Lin thinks of herself first as a customer before a designer, putting wearability and compatibility with a modern woman's life at the core of Short Sentence. "We're not in it to turn heads," she says from her Shanghai studio, adjacent to the city's West Bund art quarter. "We want to create a brand that embodies great craftsmanship and design, yet still feels very day to day and quotidian."
In a way, Lin is making clothes for her own life. As an entrepreneur and mother, it's vitally important for her to have clothes that allow her to live and work in style, while being comfortable enough to move in. "After becoming a mother, I realised even more the importance of functionality in clothing," she says. "First, the fabric and material have to be easy to handle, and the length of the garment is also key to your mobility. I'm even looking into waterproof materials to create baby-proof collections for modern mums." It becomes clear on speaking with Lin that Short Sentence is not about catching the trends season after season. Rather, the clothes are quiet poems that, over time, settle into your life and enable you to slowly discover the larger-than-life connotations behind them.
Lin has always been a big fan of American indie filmmaker Sofia Coppola, whose simple and monochromatic colour palette has made her an icon of understated chic. From crisp white shirts to impeccably tailored trousers that allow her to move around with ease, Sofia champions a je-ne-sais-quoi elegance. As Lin says, "I want to create clothing that will stay in people's wardrobes for a long time." For her, that is the definition of sustainability.
Although it emphasises essential and practical clothing, Short Sentence doesn't compromise on its design and aesthetics. "Modern women aren't only looking for clothes that are appropriate, but also clothes that provide them with a sharp and interesting edge," says Lin. Following this thought, her brand's AW19 collection is inspired by Spanish artist and sculptor Joan Miró. Miró's boundary-breaking and contemporary faux-naïf style of painting, combined with his loose brushstrokes, surrealist approach and vibrant colour palettes, has greatly inspired Lin — and those themes and motifs all lend themselves very naturally to the Short Sentence brand. Elements like the unique collision of different weaving techniques, fabric textures and exaggerated shapes can all be found in the collection, paying tribute to the golden era of surrealism.
Lin's perspective is also affected by her being slightly older than many of the emerging Chinese designers today. It was a different time and market environment when she first embarked on her studies in New York. "Back then, there would still be Americans asking whether China had air-conditioning," she says. "And whenever I was asked what some of the great brands coming out of China were, I was ashamed that I couldn't name any."

Indeed, when Lin first returned home after her time at Calvin Klein in 2012, the Chinese independent fashion industry was still awakening. She entered a competition held by China Central Television and came second. Shortly after, in 2015, she founded Short Sentence.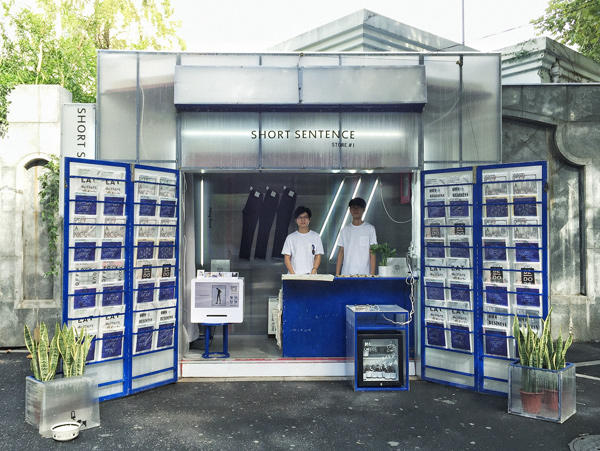 "When I was working at Calvin Klein, I realised that most of the complicated garments were outsourced to Chinese factories. After years of manufacturing for Western brands, Chinese factories have now developed strong skill sets and standards, but what they lacked most was innovation," she says. But as waves of overseas returnees began to set up brands in their home country, Chinese suppliers began to evolve alongside them, becoming increasingly innovative and sustainable. "Our ideas are shaping the manufacturing industries in China. Nowadays factories are even able to locate the source of your cotton to specific trees in the Xinjiang region, planted by a specific farmer." This evolution is only good for Short Sentence, which is known for its quality and fabrication, especially in developing new and innovative fabrics. "Our competitors are now from around the world," Lin points out. "Not only do we have to create high-quality products for the Western market, but our Chinese clientele is also becoming more and more aware of what they're wearing."

In 2016, the brand took over one of the last remaining newspaper stands in Shanghai and reimagined it with contemporary utilities and functions to further benefit the needs of local residents. "The newspaper stand is something that has been disappearing, and it's becoming irrelevant to urban life today. So we created and produced a pair of jeans that utilised recycled fibres and environmental washing techniques," says Lin. But, she continues, "We wanted to extend this sustainability to engage with the local community as well." So, from phone charging stations to a daily newspaper created by the brand, the pop-up was able to engage city dwellers in conversation, and give a fresh and innovative take on what the fading newspaper stand could evolve into.

"Our social responsibility isn't only to create eco-friendly products," Lin concludes, "but also to care about the society and community we exist in, and to think about what we can do to make our lives and our city more sustainable."