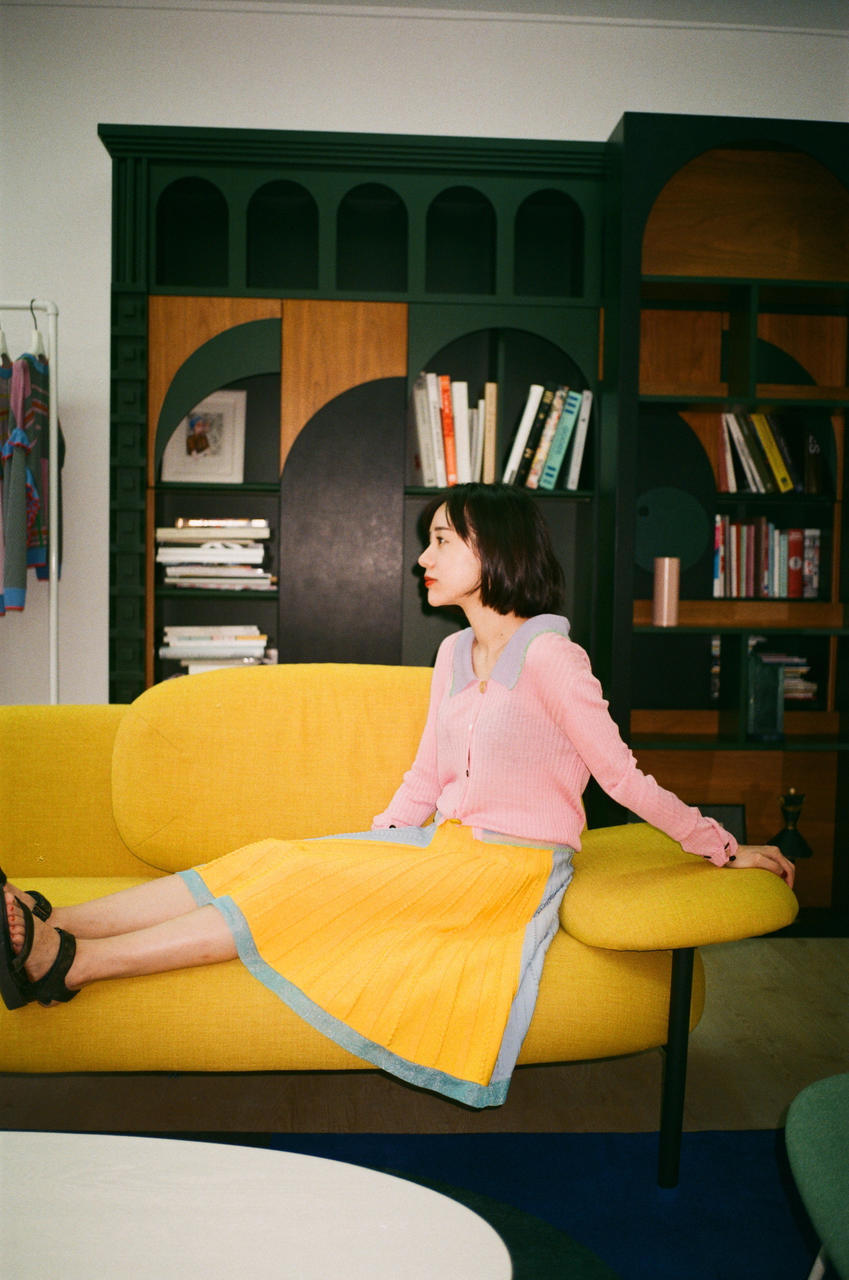 NEW WAVE CREATORS: I-AM-CHEN
Redefining Modern Chinese Aesthetics Through Fashion
Words and photography by Bohan Qiu / Editorial assistant Raja Chin
With the ability to balance her creative vision with wearability, Designer Zhi Chen from i-am-chen is a woman who embodies both sensuality and artistic talent. An A-grade student, Chen was expected by her family to have a stable job in finance or accounting, but deep down, she knew despite her grades she simply wasn't the kind of person to settle for stability. "I was for sure a rebel in high school!"
After deciding to drop out of her engineering studies in China and pivoting to a degree at the London College of Fashion, Chen won a national scholarship to study at Parsons in New York. She admits to experiencing culture shock at the fundamental mindset change that she went through when entering a Western educational environment; but she still managed to graduate LCF with her Playground collection, which subsequently landed her a spot at London Fashion Week. There, she also found herself winning the Lodz Young Fashion Award.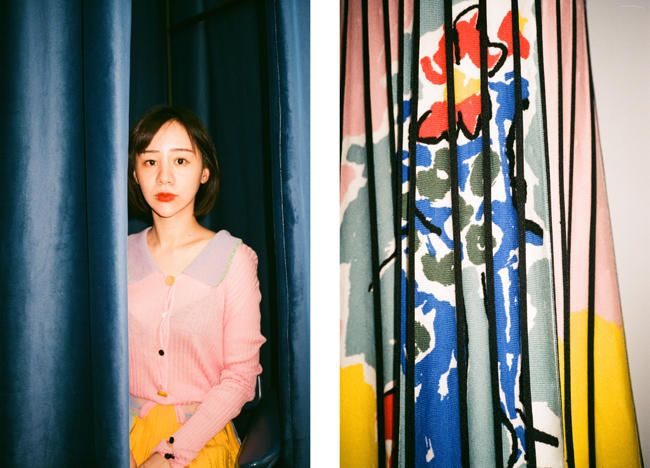 From there, Chen was on a roll. The very first order she received after graduation was from the Museum of Modern Art in New York City, who requested to purchase a pencil skirt from her FW17 collection for display alongside a pair of Levi's jeans, a Chanel little black dress and "Le Smoking" from Yves Saint Laurent for its Items: Is Fashion Modern?  exhibition.

"It was the first email I ever received in the i-am-chen mailbox, and I thought it was a scam," says Chen. "It was truly an incredible feeling, having a museum I'd always visited for inspiration invite me to participate in their exhibition. It launched my career. I really enjoy the beauty created through the industrial process. Not only would I like my products to be in the hands of consumers, I'd also love to have them in museums that focus on design."

In 2017, Chen was a finalist for the Lane Crawford Creative Call Out in Chengdu, and followed that up with becoming a semi-finalist for the International Woolmark Prize in Hong Kong SAR in 2018. This year, i-am-chen achieves another goal by also having its pieces showcased at the Design Museum in London.

i-am-chen is known for its intricate knitwear and bold colour blocking techniques. Knitwear isn't something that many contemporary Chinese designers focus on — or even touch on — but after discovering the craft on a school trip to a knitwear factory, Chen found that the unique fabrication process and technical aspects of knitting really spoke to her.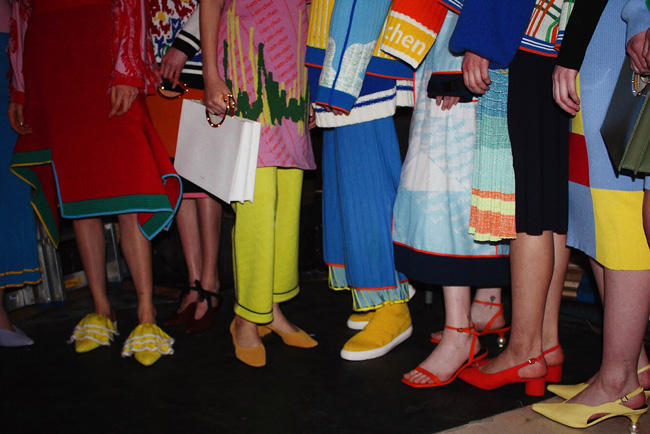 "I love both maximalism and minimalism. I also want to create conceptual things while making clothes consumers desire to buy and wear. Knitwear turned out to be the answer — and my calling."

Chen considers herself more of a technician than a designer. She compares knitwear with engineering sciences, as it requires a similar mindset. A knitwear designer has to programme and design the fabrication process, while at the same time inventing new methodologies to create new patterns to achieve the complicated effects, textures, colours and constructions all on a single facade — this is no easy task to master. Indeed, knitwear can be studied as an entirely separate major in itself in the fashion education system. One first has to learn what the machine can create; to understand its limits and constraints. Then to be able to communicate with the technician to discuss how to achieve a particular design effect. At the same time, the efficiency of the programming must be considered in order to reduce material waste and processing time.

"When I started to discover knitwear techniques, I thought to myself that this equilibrium was exactly what I was looking for in the design. On top of that, computer programming does come very naturally to me, thanks to my science and engineering background."

After decades of manufacturing for Western luxury brands, Chinese factories have developed very advanced techniques. Facing the rising cost of labour and a shifting global economy, not only are Chinese factories trying to upgrade and shift their focus to improving and producing better quality garments, but they're also incredibly supportive of local talent in a bid to nurture future Chinese fashion clients.
"All of the product development and fabrication happens in China. Nowadays the factories all have advanced technologies and machines, but they need designers like us to help them invent and create more beautiful products so we can grow together in the long run," says Chen. "This gets me really excited, and I'd say factories are definitely a great source of my inspiration."

Contemporary art is also a significant source of inspiration for the designer. She stopped by the Venice Biennale recently and is also a regular visitor to museums and galleries around the world. "One of my favourite places in the world is Sir John Soane's Museum in Holborn, London. It was the home and studio of neoclassical architect Sir John Soane, and it holds an incredible art and object collection in a great space."

Chinese designers have already been a hot topic for the past five years, and with more and more young Chinese talent returning home after their studies in leading Western institutions, the creative ecosystem is growing at an astonishing pace.

"Good design is good design, and it shouldn't be seen through an identity lens. I have to be defined as a good designer before a Chinese designer," says Chen. Like most Chinese designers today, she belongs to the generation of Chinese millennials with a broad spectrum of international experience and who are at the same time trying to find their voices after the baptism of a Western-led view of the creative process. "Of course, Chinese culture and the environment we live in have influenced my work — it's impossible to throw away. Our design needs to represent who we are and what we believe."
People talk about Chinese designers as a genre, but contemporary Chinese design is not just putting traditional Chinese elements onto Western-style garments. It's not just a dragon-printed silk qipao channelling an imperial vibe either, though it can easily be that. It's about the voices of the moment exporting the vision and aesthetics of contemporary Chinese youth. Those designers can be extremely contemporary, modern and worldly in a way that blurs the lines between what's Chinese and what's not.

"For i-am-chen, balance is a very key concept in Eastern philosophies. We studied how to express ourselves and create our own identity in the West, and then we try to achieve the equilibria with Eastern subtlety," says Chen of the two influences.

Perhaps it's still too early to have a clear picture of what "Chinese style" means and looks like, but Chen is definitely crafting a path and there's a whole generation coming up with her defining the concept based on their own understandings.

"There's no need to emphasise or hide our label as 'Chinese' purposely," the designer concludes. "It's something that's inside our skin and bones. Whatever we create will reflect it."

The hunt is on: Join us on September 6th at Lane Crawford Shanghai Times Square where we'll unveil Creative Call Out 2019! Stay for drinks and shop our latest pop up with Labelhood.