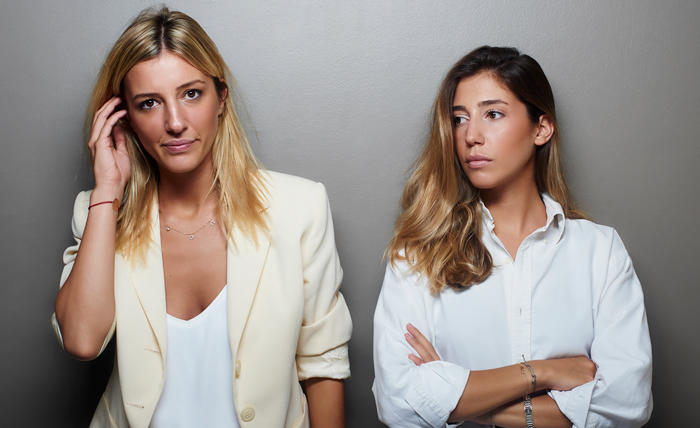 MANU ATELIER: LEATHER GOODS FOR THE MODERN WOMAN
Meet the sisters behind the cult accessories label
Words by Bridget Barnett
Turkish sisters Merve and Beste Manastır are the brains behind handbag and footwear label, MANU Atelier. Handcrafted by artisans in a workshop led by the Manastırs' father (an acclaimed leather artisan), the brand's pieces are beloved for their beautiful leather, interesting colour combinations and modern shapes.

We sat down with Beste to find out more.
What drew you to starting MANU Atelier?
"Our father inspired us. He was drawing all the time when we were kids — he'd always be taking a piece of paper out of his pocket spontaneously and scribbling away. We also spent so much time in his studio, often standing over him and watching him finishing his work. We've always believed in both his artisan and design skills, and wanted to be the bridge that took his talent to the world. The idea of MANU Atelier had been around for a long time, but it became a business plan after Merve's graduation. First we decided to gain experience, and helped another designer launch her leather accessories collection. Then we worked on creating our brand for a year before we launched it. We didn't want to wait any longer because we really believed that there was a gap in the market in terms of exclusively made and thoughtful products at more inclusive prices. As we live in Turkey, a country of leather and leather goods production, and our father has a leather atelier, we thought it would be something we could achieve."
What's it like working together as sisters? Do you both take on different roles within the business?
"Merve is in charge of production, operations and finances, and I'm responsible for sales and marketing, but we work together at every single stage of both the creative and business sides. Sometimes it causes conflict, but these disagreements always bring us to the right choice eventually. The luckiest part of working together for us has been having the same taste, but also looking at things from different perspectives. It's a unique feeling being able to create something with your family."
You dipped your toes into designing shoes for the first time this season! Tell us about that.
"We always have a woman in mind we're designing for. While bags have always been special to us, since we grew up in the workshop watching our father designing and crafting them, we wanted to complement them with shoes that have MANU aesthetics and brand values: quality, design and craftsmanship presented in a modern way."
What achievement are you proudest of in the last five years, and what's been the biggest challenge?
"We founded our brand in Istanbul, which is not a fashion capital, and now we're selling our designs all around the world. It seemed impossible to many people at the beginning, especially to see success in such a short period of time. To create an internationally recognised brand has been a big achievement for us. As for challenges, last year Merve had a serious accident and couldn't walk for six months, which happened just before we launched our first footwear collection, and at the same time as moving to London from Istanbul. That was the biggest learning curve for us so far, but we're sure we'll be learning forever."
As Istanbul natives, could you recommend any local haunts we should visit on our next trip?
"Sleep at the Georges Hotel in Galata, or Pera Palace in Pera. To eat, head to Aslan Restaurant in Nuruosmaniye and tuck into homemade food, or dine on traditional meatballs and yogurt at Çukurcuma Köftecisi in Çukurcuma. There's also wonderful jewellery, furniture and clothing antique shopping in Çukurcuma, including Pied de Poule. The owner Şelale is a very cool woman who has amazing knowledge of vintage clothing! There's also the second-largest vintage store in Istanbul, called By Retro, at the passage called Suriye Pasajı — it's filled with century-old costumes. The Grand Bazaar, Basilica Cistern, Hagia Sophia and Bosporus are also must - sees."