Snow Gear For when life is best lived

on the slopes
Styling by Declan Chan / Photography by Ken Ngan / Makeup by Jenny Shih / Hair by Him Ng / Words by Harriet Quick
Ski kit brings out the geek in all of us and with high performance technology, super new lightweights and a slew of snazzy multi-functioning design details, these pieces will be active in your life long after the ski/adventure vacation is over.
Find an array of parkas, gilets and jackets at Canada Goose that carry their Made In Canada tag with pride. The brands founder, Sam Tick, invented a down filling machine in the late 1950s and the high-performance jackets soon became a must for arctic adventurers and film crew alike.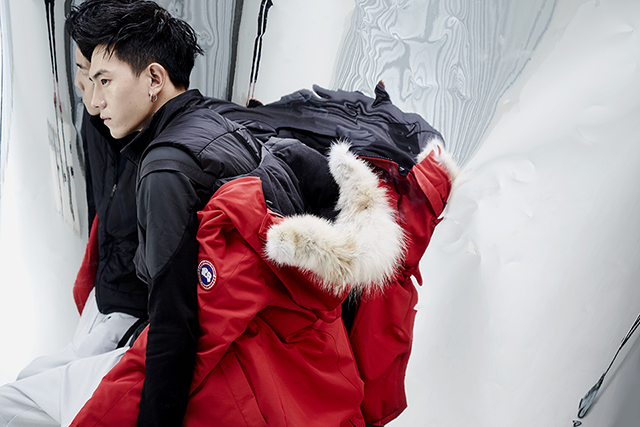 Newer to field is Aspen based Aztech Mountain which was founded in 2013 by David Roth and Heifara Rutgers and boasts Olympic Gold Medalist skier, Bode Miller, on board as Chief Innovation Officer. It specialises in cross-functional garments including the lightweight flexible four zippered Nuke style and a sleek down jacket with water resistant merino wool arms. "Go Fast, Be Good," is the motto.
At Perfect Moment, find kit with chevron stripes that would suit a '70s downhill skier and at Spanish brand, Ecoalf a range of outwear made in best in class recyclable materials. Bragging that your jacket is made from recycled coffee grounds will make that après-ski espresso martini date all the more interesting.