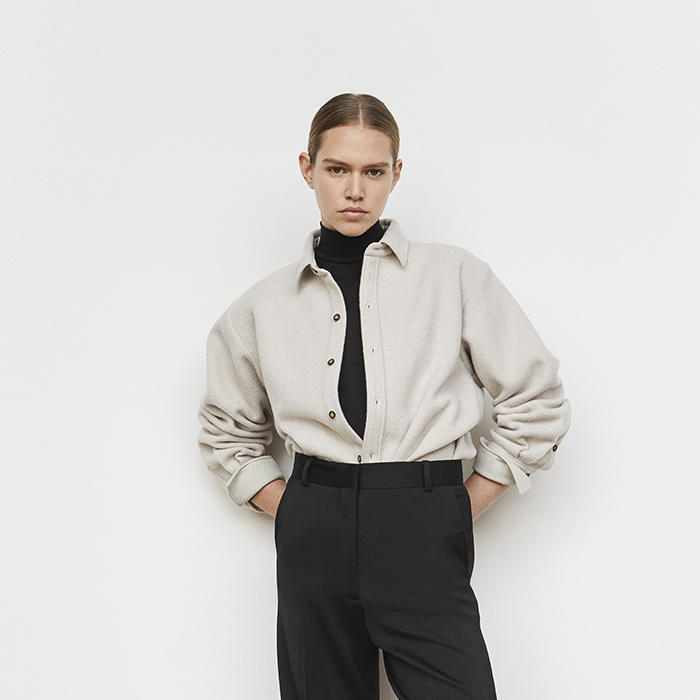 SHIRT HAPPENS
Three ways to sport the all-star
Words by Joey Wong
There are sartorial edicts with rules that aren't exactly black and white. What's business casual? Smart casual? Why are all regulatory dress codes suffixed with 'casual' when their very existence implies anything but? Regardless of occasion, there's one article of clothing that's a chameleonic classic: the crisp white shirt. Here's how we're wearing ours this season.
CITY SLICKER
Two summers ago, it was Katie Holmes in a taupe Khaite set; her cashmere bra only just visible through a barely-buttoned matching cardi tumbling over one shoulder. She was hailing a cab in Manhattan. Then, virality. A candid, they're-just-like-us moment that launched a thousand copycats. This summer, it's Kendall Jenner in leather-belted suit pants, thonged sandals, and a crisp white oversized shirt — unbuttoned and billowing over an equally crisp white T-shirt.
WFP (WORK FROM POOL)
Work-life balance? Unfortunately, entirely non-existent for your favourite work shirt. The hardest working piece in your wardrobe works overtime, on vacation, and is almost always Employee of the Month. It's definitely getting that performance bonus, so throw on that button-down over a pretty swimsuit before promptly making use of that Zoom green screen poolside. We won't tell your boss.
ON DUTY
A crisp poplin shirt, pressed and laundered, is practically the gold standard in workwear right alongside a perfectly fitted blazer, pleated slacks and buffed brogues. We're not trying to reinvent the wheel; we're just here to make a point, nudging you that little bit closer towards that collared Prada, or that Thom Browne Oxford you'll wear forever. Be adventurous elsewhere — use this opportunity to expand beyond the realm of black, navy, and heathered grey. Blush pink, perhaps?
Not what you're looking for? We have more for your wardrobe refresh.