Five irreplaceable actors get together to reflect on their craft, with style.
Art direction by commonrooom
Photography by Kiu Lau
Styled by Ricky Sham
Words by Elaine YJ Lee
Hong Kong's film industry has undergone several stages of significant change over the last half century. From the '70s Hong Kong New Wave to the Golden Age of action movies that took the world by storm in the '80s and '90s, the city has never ceased to push the boundaries of motion pictures. Blessed with genius actors and filmmakers who breathe creative life into the industry, Hong Kong – once dubbed as the Hollywood of the East – has constantly evolved and recreated its entertainment sphere, enjoying world fame and success along the way.

The early 2000s saw a resurgence of a cultish subgenre of crime and triad-gangster films that reignited Hong Kong's cinema. Iconic titles like the Young and Dangerous film series (古惑仔電影系列), Infernal Affairs (無間道), PTU, and Election (黑社會) all came out in this era, powerfully portraying the heroes and tragedies of the underworld, and giving new limelight to this subgenre that once defined and catapulted the influence of Hong Kong movies. These action-packed dramas delivered the sometimes cruel, sometimes touching reality of underground brotherhoods, pushing forward the archetype of the anti-hero protagonist once more.

To revisit and celebrate this rebellious spirit, Lane Crawford reunited with some of the industry's baddest actors from future's past.
Adam Pak, The Perfectionist
Adam Pak (栢天男) may look the part of a suave and easygoing gentleman, but the Breakout Brothers (逃獄兄弟) star is anything but. His cut-throat action moves and ripped, muscular frame he showed off with character Mak Kin-Tin, a wrongfully framed prisoner planning his violent escape, were results of hardcore dedication that quite literally took blood, sweat, and tears. "From acting out tough fight scenes to enduring the cold, filming Breakout Brothers was one of the hardest challenges I've experienced my entire life," Pak reflects. "But I'm a perfectionist – I can stick it out and make dramatic changes to my physical appearance if it means I can continue acting and be on screen," he says. The Hong Kong Film Awards' Best New Performer nominee transitioned from modeling to acting at age 36, which was – to borrow his own words – "no walk in the park," but he doesn't care. "It took a lot of hard work to start acting late, but I love every opportunity to learn. It has definitely been a challenge, but what is life without a challenge or two?" Pak, whose screen debut was the 2018 crime thriller, L Storm (L風暴), couldn't be more eager to tackle new roles. "The next character I am to play is always my favorite."
Phat Chan, The Rebel
Phat Chan (阿肥@24HERBS) is no stranger to the art of performance, having graced Hong Kong's street and hip-hop scenes with his fierce – and at times, destructively aggressive – musical talent. "To me, hip-hop is an expression of self. I write and perform songs to say what I want to say," the rapper proclaims with confidence. Chan, who's acted alongside some of Hong Kong's most killer action stars in titles like Line Walker (使徒行者) and Colour of the Game (黑白迷宮), was always a born rebel. "Running away from home, partying – I've done it all," he reminisces. "But I would never do anything to harm another person. That's where I draw the line." For 2021, Chan is planning a new LMF concert and producing more songs for 24HERBS, and is also a soon-to-be official sake sommelier. "If you actually take the time to get to know me and listen to my music, you'll know I'm not the 'bad influence' that people think I am," he says. "Listen, I can't change the way I look."
Ronald Cheng, The Reborn
Ronald Cheng's (鄭中基) most memorable and iconic role to date throughout his 25-year acting career is perhaps his performance as Tyrannosaurus (暴龍哥), the comically deranged and crass triad boss in 2012's Vulgaria (低俗喜劇). "For that role, I was inspired by Tat Chi Chan's real-life accent, and other vulgarians I've actually met," Cheng explains. "My philosophy on acting is realism, and believe it or not, Tyrannosaurus was inspired by personal experience." As a multi-entertainer who got his start as a singer, Cheng is slowly shedding his mischievous troublemaker image by revisiting the roots of his creative passion. "I'm re-recording some of my old songs, which has shown me the effects of time," he says. "It's not just that my voice and singing techniques have changed, but I'm also re-examining and reinterpreting my lyrics differently as a more mature, older man." This newfound self reflection has also given Cheng new meaning to comedy. "We need comedy more than ever now, as we as a society have been suffering tremendous stress. As an actor, I want to bring joy to the audience, and experiment with new genres like comedy horror." Cheng's album, which is sure to deliver joy and much more, is slated to release within the first quarter of 2021.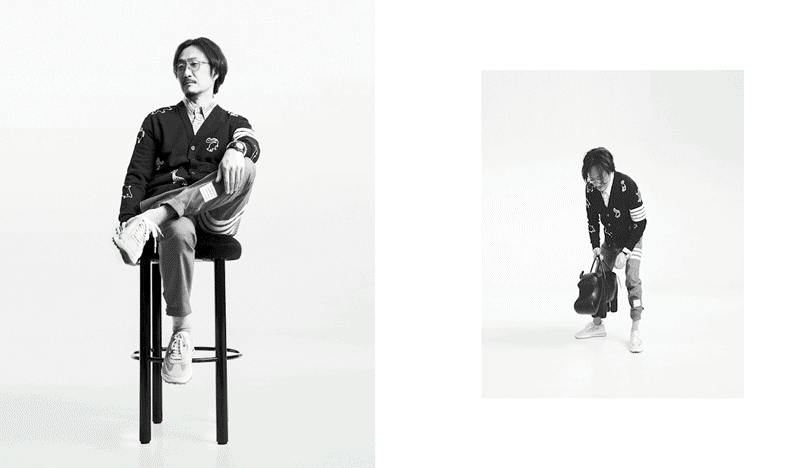 Sam Lee, The Natural
When director Fruit Chan spotted the then 21-year-old Sam Lee (李璨琛) on the street, he knew right away that Lee was the perfect fit for Made in Hong Kong (香港製造), the 1997 cult classic. "I grew up in public housing estates, and I really enjoyed running around when I was a kid. Being a rebellious 'street kid' is ingrained in my DNA," Lee explains. "I don't need to 'act out' those bad boy characters." A staggering 115 roles later, Lee still cites Moon, his lead character in Made in Hong Kong, as the one he resonates with the most. "I had no acting experience at all when I did that movie. I was just being myself." With that coolly unbothered attitude, style also comes naturally for the multi-hyphenated actor-DJ-rapper and designer. A true fashion aficionado and self-proclaimed sneakerhead, Lee owns roughly 200 pairs of sneakers that he's proud to actually wear ("I would never buy shoes just for display!"). Lee can always be counted on to make the right decision when it comes to style, both on and off screen.
Philip Keung, The Daring
Philip Keung (姜皓文) may boast over 110 roles in his filmography, but no two characters he's ever played are the same. "To be honest, I don't mind being typecast and playing the same character repeatedly, like the villain or the cop," he says. "Whatever the character is, every role is a new challenge, because you have to incorporate new elements in the performance." Keung, who's unafraid to dive into transformative and daring roles, welcomes all obstacles on the job. "Dealing with psychological complexities of a character is part of my work as an actor. To vividly play a role, one has to begin with changing his own emotions and mentality, which is crucial. There's a reason why people often call actors 'crazy,'" Keung reflects. If he could choose his next role, what would it be? "A majority of productions in Hong Kong are popular commercial genres like crime, thrillers and mysteries. You don't really see stories about everyday life or people. I think it'll be interesting to play an ordinary person, to act out their journey and struggles."