NEW WAVE CREATORS:
SANS TITRE
Redefining modern Chinese aesthetics through fashion
Words and photography by Bohan Qiu / Editorial Assistant Raja Chin
Rooted in elegance, Sans Titre exists in a fantasy world, projecting an idealized image of a modern gentleman and gentlewoman. The Beijing-based brand doesn't believe in limiting itself and is known for a unique aura of sophistication that's rare to find in current Chinese design.

Simple, soft, and perfect, Sans Titre garments are impeccably well-tailored, merging Oriental subtlety with traditional power suiting. Shapes and detailing of early 20th-century Japanese menswear and traditional relaxed Parisian tailoring are artfully blended, giving birth to a fresh new perspective on the unisex daily suit.

Founded in 2015 by ESMOD-trained designer Xu Jiazheng and internationally renowned photographer Jumbo Tsui, the brand had all the right reasons to succeed. Jiazheng spent years in Paris studying before interning in the men's department at Hermès. He then traveled through Japan in search of an Eastern perspective of style and garment making before returning to Beijing to start his own brand.

Jumbo is arguably one of the most influential and respected photographers in China today. His theatrical and ultra-sensual image-making talent has landed him countless covers for Vogue, Harper's Bazaar, Numéro, T and commercial clients from Mihara Yasuhiro to Issey Miyake and H&M. While Jiazheng focuses on creating easy, comfortable, and high-quality garments, Jumbo controls everything from creative direction to branding. "Jiazheng is the chef, and I do the plating," says Jumbo.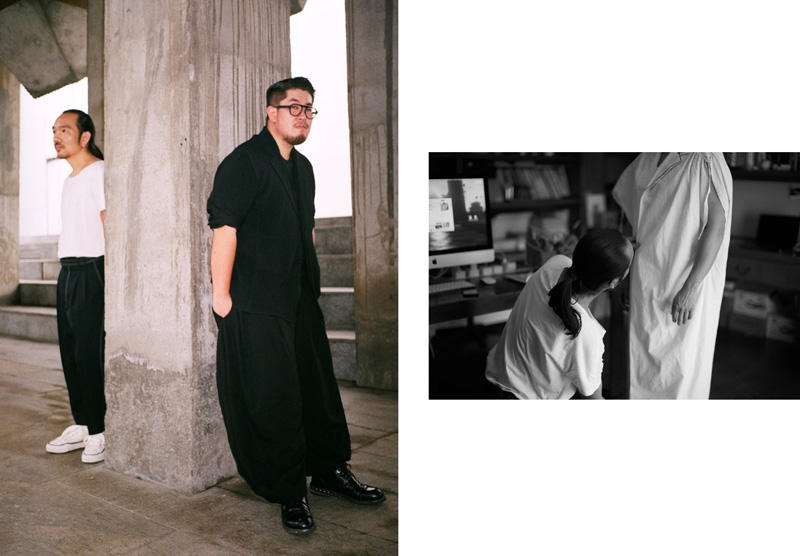 Initially a menswear brand, Sans Titre extended its refined aesthetic to create a beautiful gender-fluid image. The brand officially ventured into womenswear in its SS19 collection, drawing a vivid female image that embodies a soft masculinity that is both androgynous and unpretentious. Both the men's and women's collections use loose cuts, soft materials, and voluminous silhouettes to bring out the confidence that comes to life through the independence of modern men and women today.

The AW19 collection, named after English rock band Procol Harum's 'Repent Walpurgis', draws inspiration from the song's seafaring references and the much-talked-about white whale Migaloo. When Migaloo surfaced off the eastern coast of Australia after a long break, not only did it become an internet sensation, thousands of tourists were also drawn to the area, jumping on whale watching boats in the hope of seeing Migaloo in the flesh. Sans Titre's collection takes a deeper dive, exploring the profound topic of the human consumption of nature in the name of whale watching. "When Migaloo encounters the whale catchers and whale watchers, they are in fact mutually observing each other. But sometimes this mutual consumption is also doing mutual harm. That's why we want to observe this issue in our own way through the collection", says Jumbo.
Elements such as PVC, mesh, and hues drawn from the ocean — think light blues juxtaposed with apocalyptic oil-spill blacks — compose a theatrical poem within this collection. Oversized lapels, heavy wool knits, and reworked sailor hats all speak the language of a modern-day pirate voyage. The show opened with a fishnet-covered bride, delivering a powerful message and setting the stage for the color palette to descend beautifully from pure white to glossy black. Each look was a lesson in nobility, while still being embedded in awareness and presence. Looking good isn't the only factor that makes you one of the Sans Titre gentlefolk; true elegance lies in knowledge and conscience.

Japanese culture has also been a significant influence on the duo. Both have spent time in Japan, and Jumbo frequently travels to Tokyo for shoots. "Personally, I'm obsessed with Japanese style, from their workwear to their interpretation of Western tailoring," he says. This is partly because Jumbo and Jiazheng belong to a slightly older generation than other designers we've been watching. For them, magazines like Vogue Japan, Spur, and Popeye were the fashion bibles before the industry took off in China. "We watched anime like Dragon Ball and Saint Seiya growing up, and I've always been fascinated by the culture and style there. That's why I decided to travel through the country after leaving Paris," says Jiazheng.
Being based in Beijing also sets Sans Titre apart from the majority of Chinese design studios, which are not. The duo's robust network has been hugely beneficial for the brand, and is also unique in China's fashion landscape, as Beijing is where the media and entertainment industries are situated, with the city still prevailing as the cultural capital of China.

"The energy in China's fashion industry is only getting better and better," says Jumbo. Since his career started in the mid-2000s, he has been part of the first generation of fashion visionaries coming from China and conquering the international arena. The brand represents the epitome of sophistication of Chinese tastemakers, presenting to the market something they've been yearning to see in their home environment.

Jiazheng muses, "We don't mind being called a Chinese brand, but just like our brand name 'no title,' we prefer to be left borderless and undefined."