Never Ending Heads Duo Craig & Karl make existential wonders out of pop

culture excess
Words by Harriet Quick
"Each of the three pieces is a simple visual experiment, taking a basic expression or thought, like an eye roll, and translating it into an illustration in a new way. We liked the idea of eyes literally rolling out of someone's head with exasperation," say artists Craig Redman and Karl Maier." The never-ending head is representative of our day-to-day existence."
The New York/ London duo live in different parts of the world but collaborate on dynamic art that blows up cultural stereotypes to deliver a new iconography that has attracted clients in product, advertising and public art.
"Even though our work is over the top with colour and patterns we try to create that "big" feeling with as few elements as possible. This is kind of a contradiction, but if we look back at our work over time it starts to make a little more sense," say Redman and Maier. "In our early days we dealt with excess by loading up a piece with as many things as possible, now we can create the same kind of feeling with far fewer elements. Once we have an idea for something we figure out what the best medium is for it, maybe it's a giant inflatable or maybe it's an Instagram post, both are equally valuable in our world."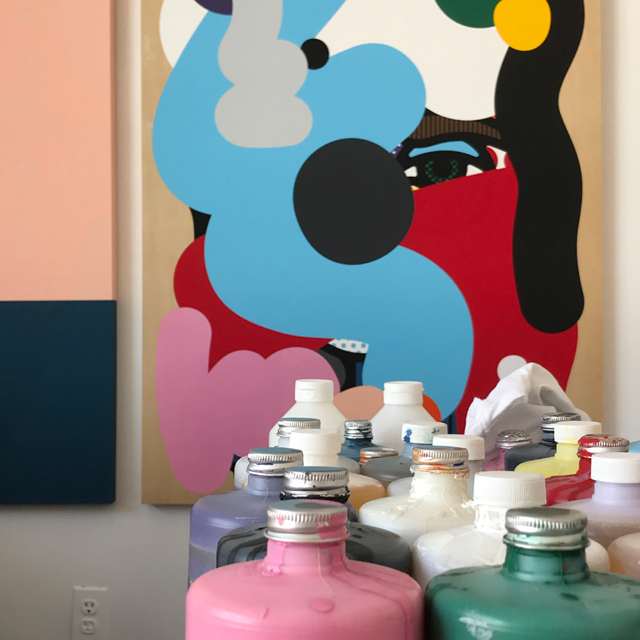 Umbrellas, tote bags, skate decks, luggage tags are all in the exclusive capsule collection of desirables. "Pop is as valid today as it ever was, probably more so. Most of Warhol's proclamations from forty years ago have come true - everybody being famous for 15 minutes and so on! - the world is much faster, more disposable and mass-produced than ever.  Warhol was one of the first artists to show the public the beauty of everyday products," say the duo. "We try very hard to make sure our work has depth which hopefully gives it longevity, not just surface level banality." Touché.