Michell Lie: Artist on a Mission What Michell Lie, the artist behind our Chinese New Year paintings,

really wants to achieve
Michell Lie is not your ordinary artist. First of all, she is self-taught, and second of all, it might be fair to say she is as passionate about making art as she is about giving love and practical support to the elderly. In many ways, Michell embodies many of the qualities we celebrate in Chinese New Year – family, love, and joy – that's why we are excited to have her art grace our stores this festive season. We caught up with Michell to learn more about her inspirations and what motivates her to give back.
Why ink drawing?
I have always liked how black ink applied with Chinese brushes appears bold, vigorous and dynamic. I got into Chinese calligraphy at first but I did not enjoy writing words, so I started improvising and developing my own take on ink artwork.
I find thick black ink very soothing and meditative – yet I also love breaking that serenity with something energetic to stir things up and create positivity, so I would add dashes of pop colors like shocking pink or tangerine to transform the composition and express my own emotions. That is how I started to draw something like what you see nowadays.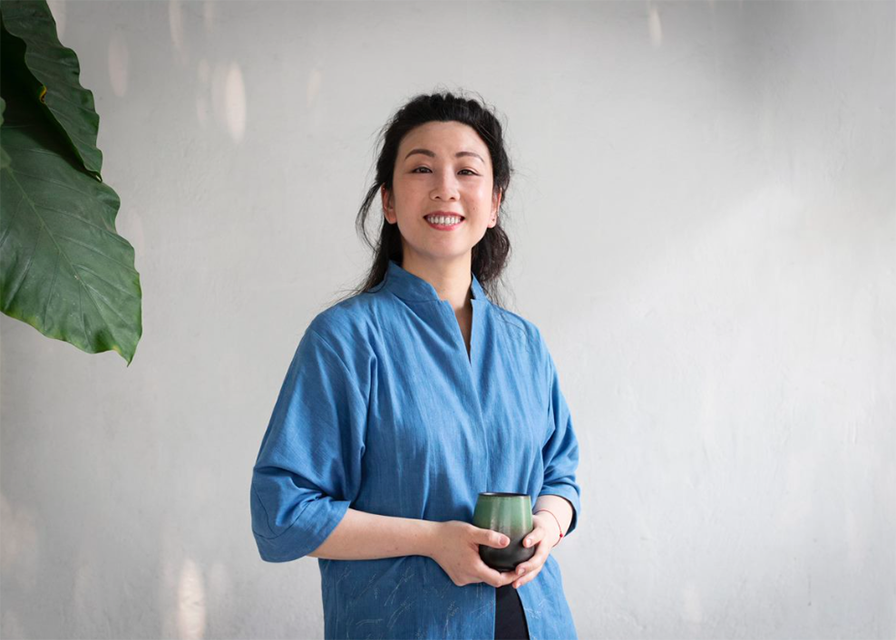 Aside from making art and creating, a big passion of yours is giving back to the elderly. Why is that? Have you always been interested in giving back to the elderly and how did you get interested in that?
Volunteering has been a big part of my life since my university years back in San Francisco, and when I returned to Hong Kong, I chose to volunteer at Mother's Choice, a local NGO that focuses on helping under-aged pregnant girls with their babies. The amount of volunteers hiked to a huge amount and I eventually turned to helping the elderly because as opposed to cute babies, seniors are way more neglected and unattended. It is apparent to me that even if you don't speak their language, if you could just be there for them, hold their hands and wrap them in your arms, it would mean the world to them. In Hong Kong, I would pick up bread from charitable bakeries to send to the elderly – it's not much, but it's a simple gesture to remind them they are not forgotten, and we do want to be with them.
Recently I am working much more closely with Helping Hand, not only donating funds I raised through my creations but also trying to see if there are more ways I can help such as raising brand awareness in the public. This organization is founded in 1978 and focuses on giving senior folks better living places in conditions they cannot afford. Everyone has contributed to building society in some ways and when they get old, the younger ones should return some love to the older ones. I believe if we all do what we are good at and share our fruits – we can truly create a better world to live in.
What do you hope to achieve with your art?
My art does not express care for the elderly directly through my composition, but whenever I have a chance to be speak about my work, I will bring up my vision and mission which is to care for our elderly, not only in HK but wherever you go. Black ink dots are a key element in my art, and as in my work and in life, it's my goal to connect the dots. I want to connect people with my art to learn more about societal needs. I want to connect individuals from different domains and sectors to work together in one unified objective - to care for those who need us. On a more practical level, I want to raise funds and give them to those less fortunate, relocating wealth in the society through art. My project tagline is "Art made affordable, charitable and enjoyable."
With my work, from ink artwork to hand-poured scented candles, I hope to add joy to people's spaces while helping those in need. I wish to see positive vibes going around like my ink strokes, creating an infinite loop of happiness that fuels our lives – this is what I hope to achieve with my art.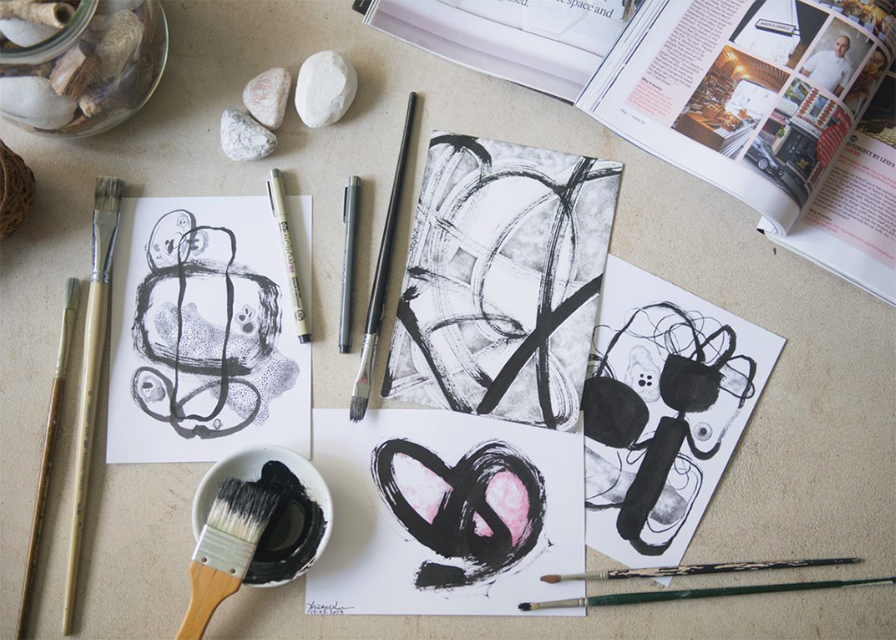 How do you get inspired?
I have only been drawing for slightly more than a year, so maybe for that reason everything is inspiring to me from a plant in the walking trail to a pattern on the plate when I dine out. What interests me a lot particularly at the moment are the biographies of Chinese artist masters Wong Wing Yuk and Fang Zhaoling. Although learning about their techniques and skills is important, I am more interested in their lives, stories, what they went through and what they are passionate about. There is still a lot to learn, and I am also lucky that my day-time job as a Brand Manager in a restaurant group allows me many opportunities to get inspired by design and art. I am working every second and I am not tired of it, because I have so much to say and so much to do, for me and the under-privileged ones.