Denham x Laser 3.14
The Amsterdam-based anonymous urban poet talks to Lane Crawford about his collaboration with Denham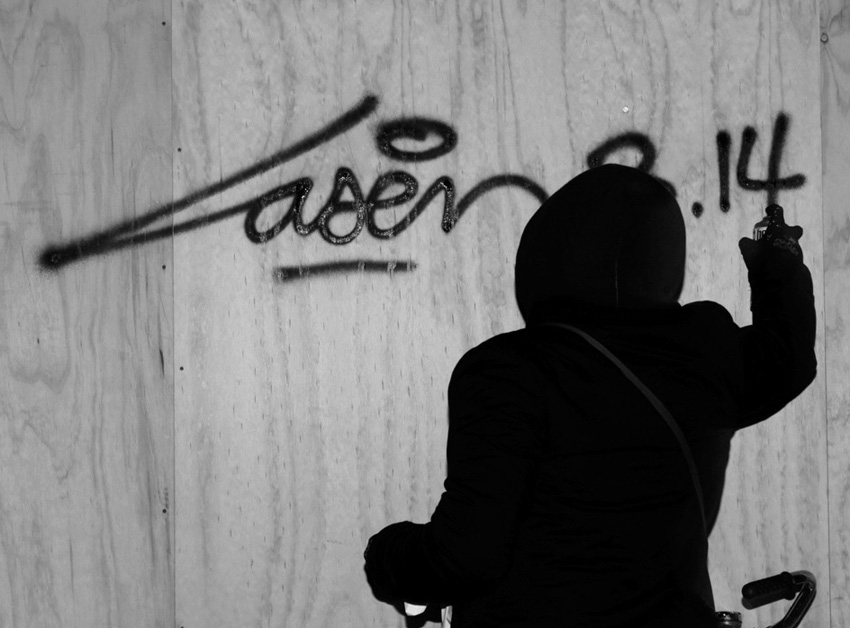 Photograph by Anne Barlinckhoff
Blurring the lines between street and literary art, Laser 3.14's work is visual poetry. Working anonymously since the early 1980s, the Amsterdam-based artist has been tagging the streets of his hometown with thought-provoking phrases that resonate with viewers. With a special showcase in store at Lane Crawford alongside denim specialist Denham, we talk to the man behind the name about growing up in the 1980s, urban poetry and his inspiration.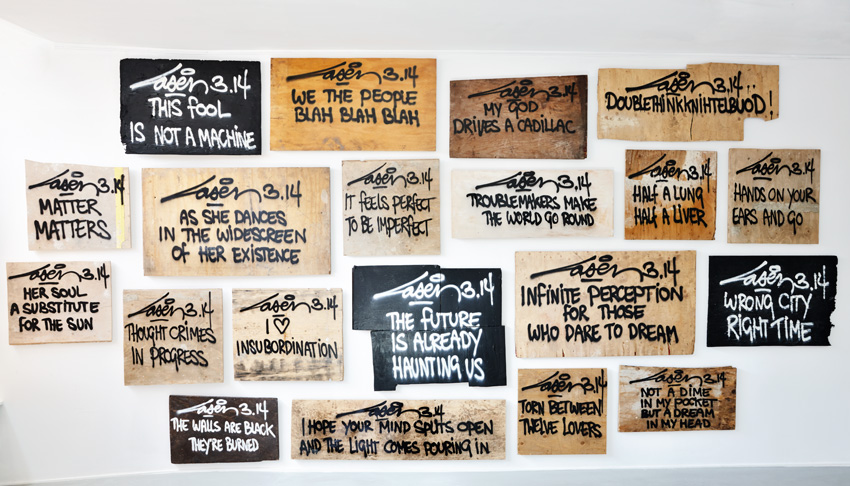 Photograph by Rene Mesman
How did you get into graffiti art?
I started in the early 1980s. When I was young there was a lot of graffiti everywhere, and I started to notice and recognise names like Dr Air, Ego, Dr Smurry and Collodi. I was intrigued by the idea of who was behind these signatures. As a kid, I found it enigmatic and mysterious and I started to emulate the tags at home on paper and later on the streets of my neighbourhood. At some point rap music, as well as electric boogie and breakdancing, started to slowly emerge and I loved it and really started to get into street culture.
Your style has been described as a poetic approach to graffiti – could you elaborate on this?
It's been described in a number of ways and I still don't really have a name for it, but I like 'street poet' or 'urban poet' the best, especially as my work has developed more towards the world of urban contemporary art, rather than standard graffiti of today. When I see pictures of old-school graffiti artists from New York in the 1970s and 1980s, I understand the poetic value of that work more than I do with contemporary graffiti. Since most of New York was ghettoized, these kids created something beautiful out of poverty, and because of that it had a kind of unspoken philosophy that still resonates when you look at old images from that era. Graffiti writers tend to write for other graffiti writers. You need a trained eye to decipher what is sprayed. I wanted to write for everybody and have all passers by invited into a 'conversation' with my work. Instead of writing for other artists, I write for people, everyone, inviting them to think about the statements I make or issues I raise, whether it sits with them all day or penetrates their daily routine just for that moment.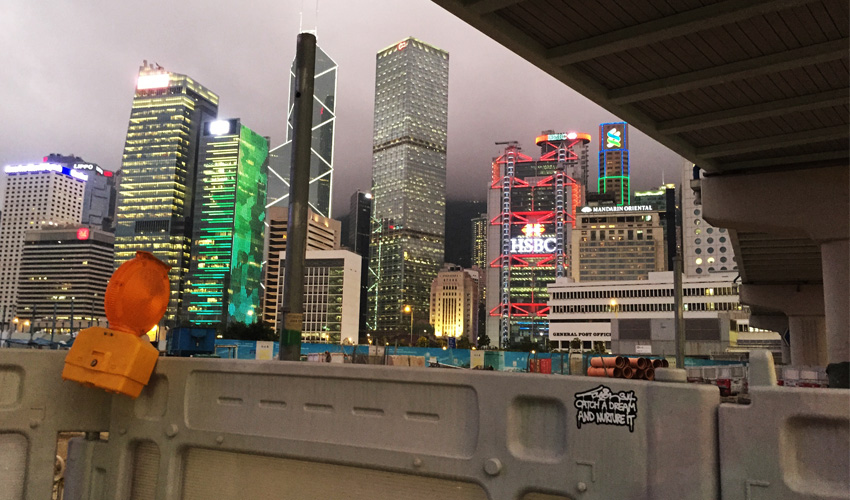 Are the phrases you tag inspired by your experiences, emotions and observations?
All of the above. They come from everyday living. I see, hear, read or experience something and it evokes poetry. Sometimes it's something I feel emotionally that comes to the surface, other times it's a world event that provokes the words, other times I'm inspired by love. There's no one thing, but rather a myriad of things that I'm exposed to, sensitive to, think about, feel, through my daily life that propel me to write and share my words.
How has growing up in Amsterdam shaped your graffiti style?
These days I see myself more as a street/urban poet than a graffiti artist. This has become my style more so than graffiti, and I hope to create work that continues to evolve in this way. I grew up in Amsterdam during a time when it was really liberal, free. It was very inspirational. It felt like you could do and say almost anything you wanted, and be whoever you wanted. The sky was electric and full of creativity. That feeling of freedom and anything is possible helped me live and work in that kind of mindset, propelling me into making art, both in terms of the public space it occupies and also in speaking my mind.
Photograph by Rene Mesman
How did you come up with the name Laser 3.14?
I used to write a couple of other names but at some point I came up with the tag Laser. I wanted a name that connected with my interests, one of them being science fiction. Later on, I wanted to have numbers behind my tag. When I was a kid I always liked old school tags like Taki 163, Beat 53, Futura 2000, Barbara 62, etc, so I tried things like Laser 3000 but none of them seemed right. One day I was listening to the B-side of the Public Image Ltd single This is Not a Love Song, a song called Public Image, and saw that the first letter of Public was 'P' and the first letter of Image was 'I', which when put together is 'Pi'. And Pi is also the name for the number 3.14. So I added the numbers and started to work under the name Laser 3.14.
Why did you decide to work anonymously?
Because I want my art to speak for itself, and not what I visually look like, to influence people's interpretations or thoughts on it. The work and the words should be paramount, that's what's important to me.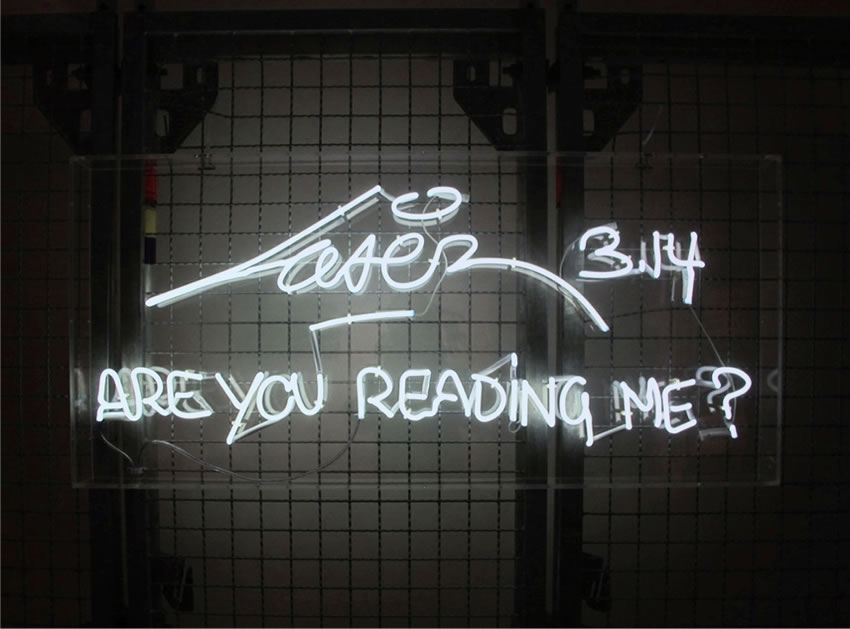 Photograph by Rene Mesman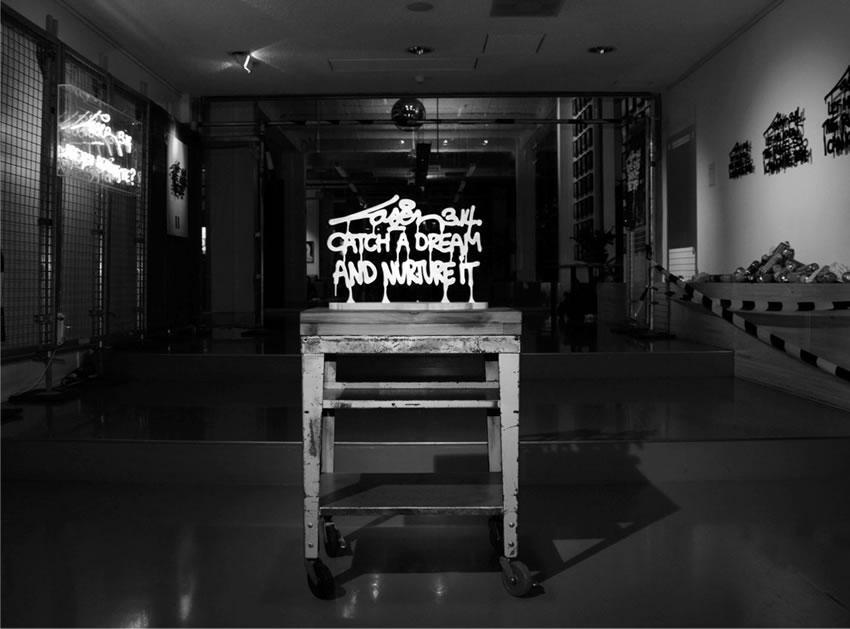 Photograph by Rene Mesman
Describe your collaboration with Denham – what was your inspiration behind the work?
I had the great opportunity to work with Denham in 2013 as the sixth artist in their House Guest series - an excellent initiative where they bring in different artists to collaborate. I feel honoured to be invited to work with them again, especially for Lane Crawford. It's exciting to get to share my work in Hong Kong and across China. Denham's mottos "The Truth Is In The Details" and "Worship Tradition, Destroy Convention" really speak to me, and I see the energy of these expressions in a lot of the poetry I write. My work that is in Lane Crawford merges Denham's world with mine. You'll see a number of pieces that are iconic of what I do in a gallery setting: hand-sprayed works on wood and big neon light pieces. And the different pieces of poetry are a mixture of Denham's words alongside my statements on travel and love.
What's your go-to denim style?
Skinny-fit black jeans.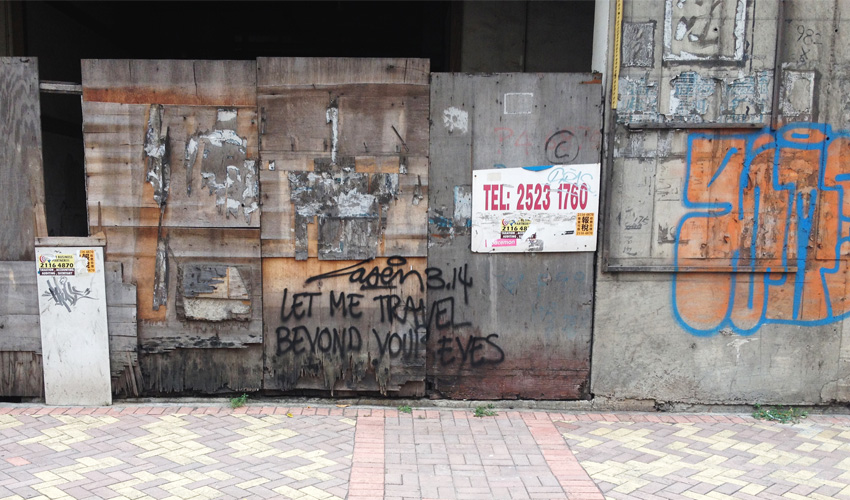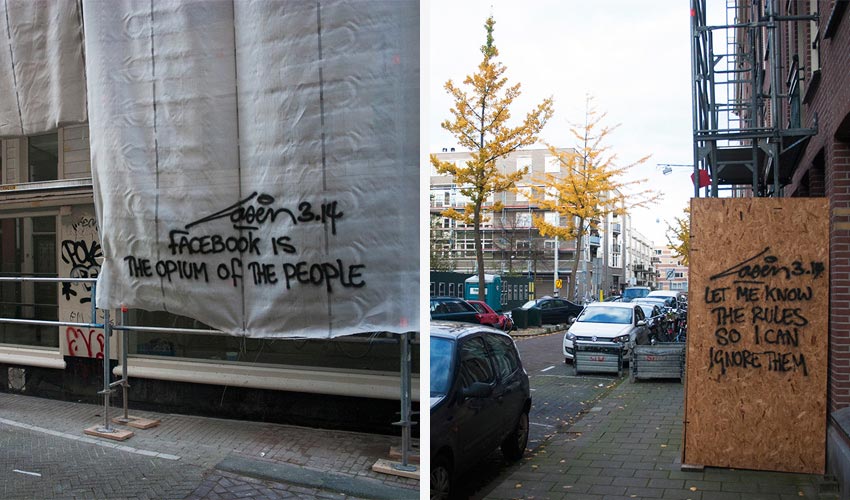 Does a city's vibe influence how you tag? For example, do your tags in Amsterdam differ from those in London and if so, how?
The formal qualities of my work – how I write Laser 3.14 and the words of the poem, and how I place my tag in relation to these words – are consistent wherever I am. It's an aesthetic style I've developed over time. But what I write is definitely influenced by where I am. Since I draw so much of what I write from my experiences of everyday life – from my surroundings – my poetry always reflects this in obvious and obscure ways. The texts of my work are statements that arise from being in familiar places like Amsterdam, or thoughts from travelling somewhere new, like Hong Kong. And when I make my high-gloss, hand-sprayed works on wood, for example, I reclaim different kinds of wooden boards found in the city where I am, so there's always a kind of very specific local materiality to my work.
More in Store
Experience the Denham x Laser 3.14 showcase in store at Lane Crawford ifc mall and look out for the special one-off Denham pieces customised by Laser 3.14.