A MAXIMALIST GUIDE TO PRINT AND COLOUR
Make a statement and lift your interiors with bright colours and cheerful shapes
Words by Bridget Barnett
When it comes to statement-making prints and colour – and blending the two – no one does it better than La DoubleJ. The brand is a product of street style star and former journalist JJ Martin, an American-born Milan-based creative who offers up maximalist designs rooted in Mid-century Italian patterns and energising palettes.

To help you master the art of colour and print at home, we go straight to the source. Here, JJ shares her top five tips for fearlessly fusing the two.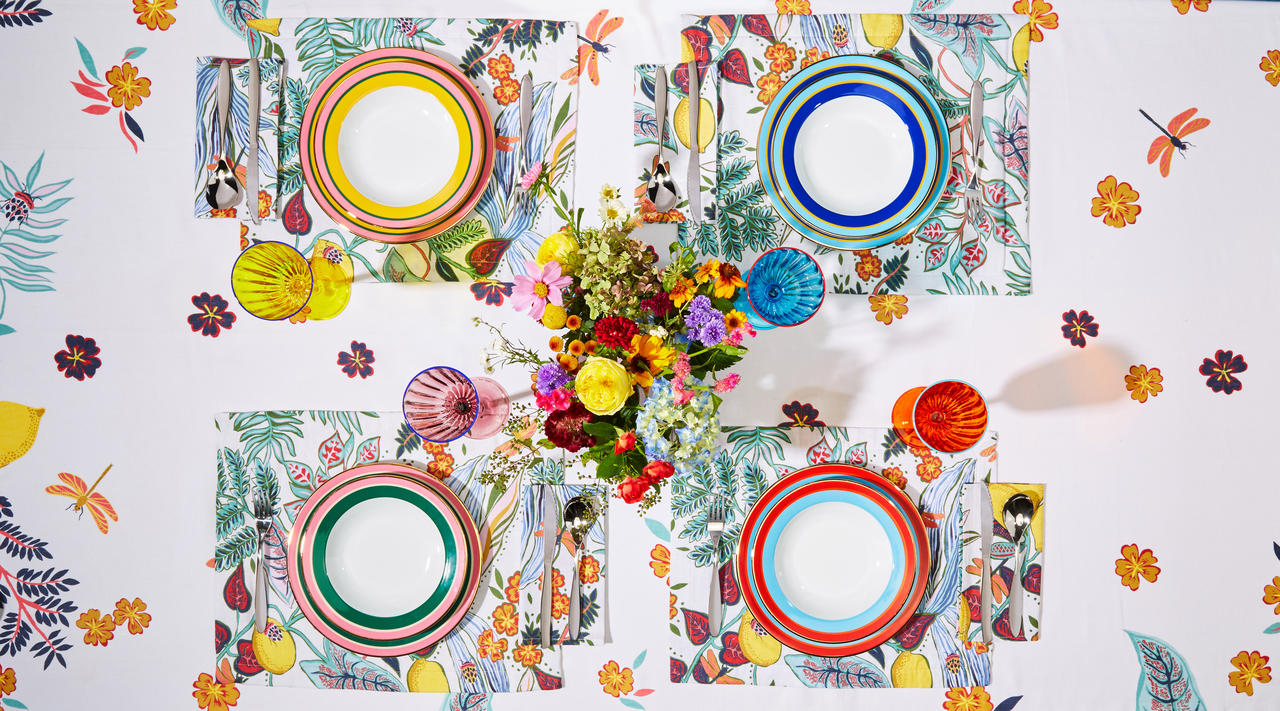 Don't forget your cutlery
"Think of cutlery and flowers sort of like jewellery to your outfits – they polish off a beautiful spread and add another dimension of texture and colour. I have a gold set of cutlery at home, and I buy assorted vintage silverware – I like it when they are all different – from secondhand shops and markets like Mercatino Penelope and the Navigli vintage market on the last Sunday of each month. The incredible Milan-based Japanese florist Sachiko Ito does ridonculous fresh flower arrangements and assembles them for me in groups of my La DoubleJ Bubble vases."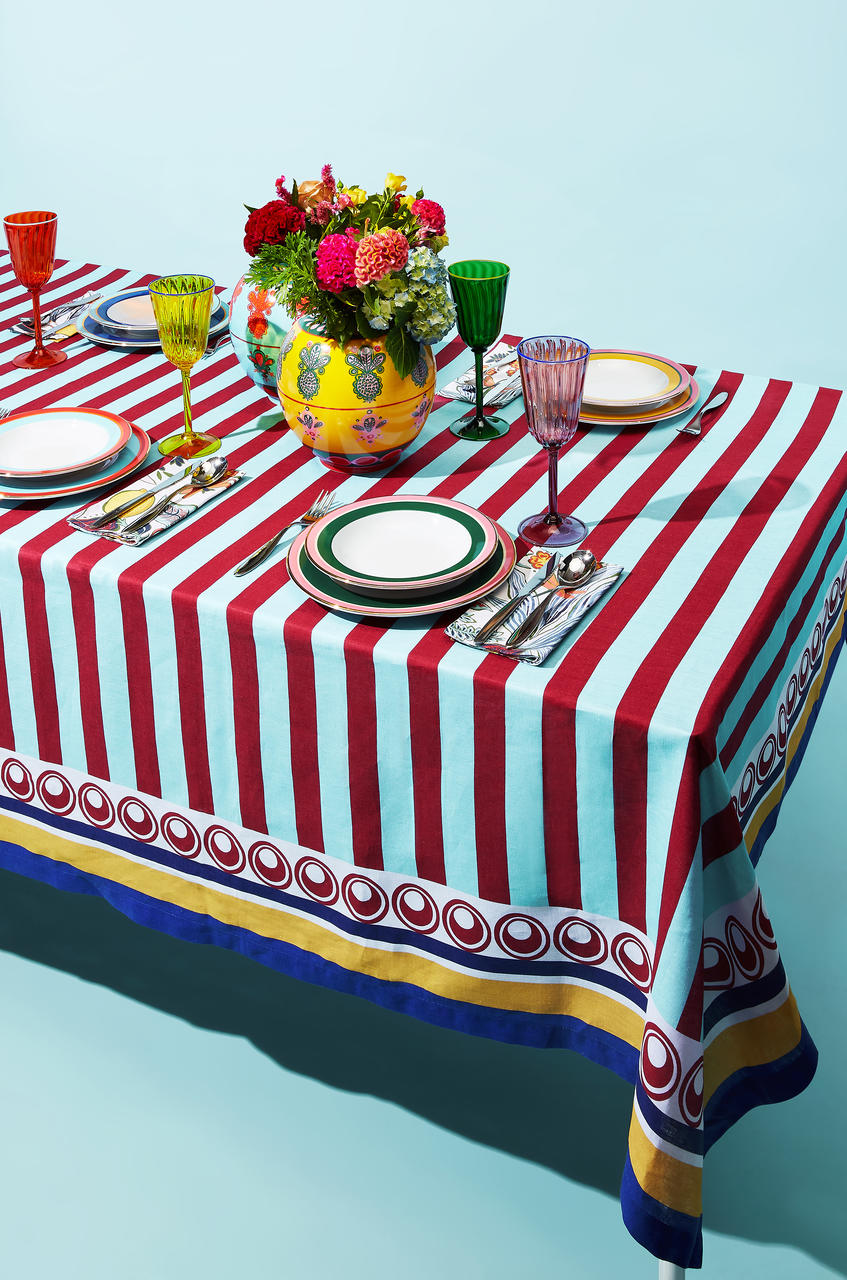 Make coloured glasses a centerpiece
"Mixing and matching coloured glasses is so simple, but a super effective touch that my dinner guests are always thrilled about. When I am hosting aperitivo, I love to take 24 of La DoubleJ rainbow-coloured Murano water glasses and put them all together on my living room table. They are so colourful that they look like an installation. I always put out extra glasses so people can change their drink and choose their own different colour – it's playful."
Mix large prints with small ones
"This is a trick that fancy stylists love and I like to do with my wardrobe, too. Mixing large prints with small ones catches the eye and is a good place to start if you are mixing and matching or clashing prints for the first time. For your table, try our wide Riga Bordeaux striped napkins with our floral Botanical print table linens."
Pockets of pattern
"Print and colour give me so much energy. When I am working from home, I like to create little pockets of pattern for myself to sit on, prop a La DoubleJ Goddess cushion onto my zany printed chair, and dress myself in La DoubleJ pyjamas to get on my work Zoom calls. It makes me feel much stronger. Try the same in your home with cushions, table settings or even your bed."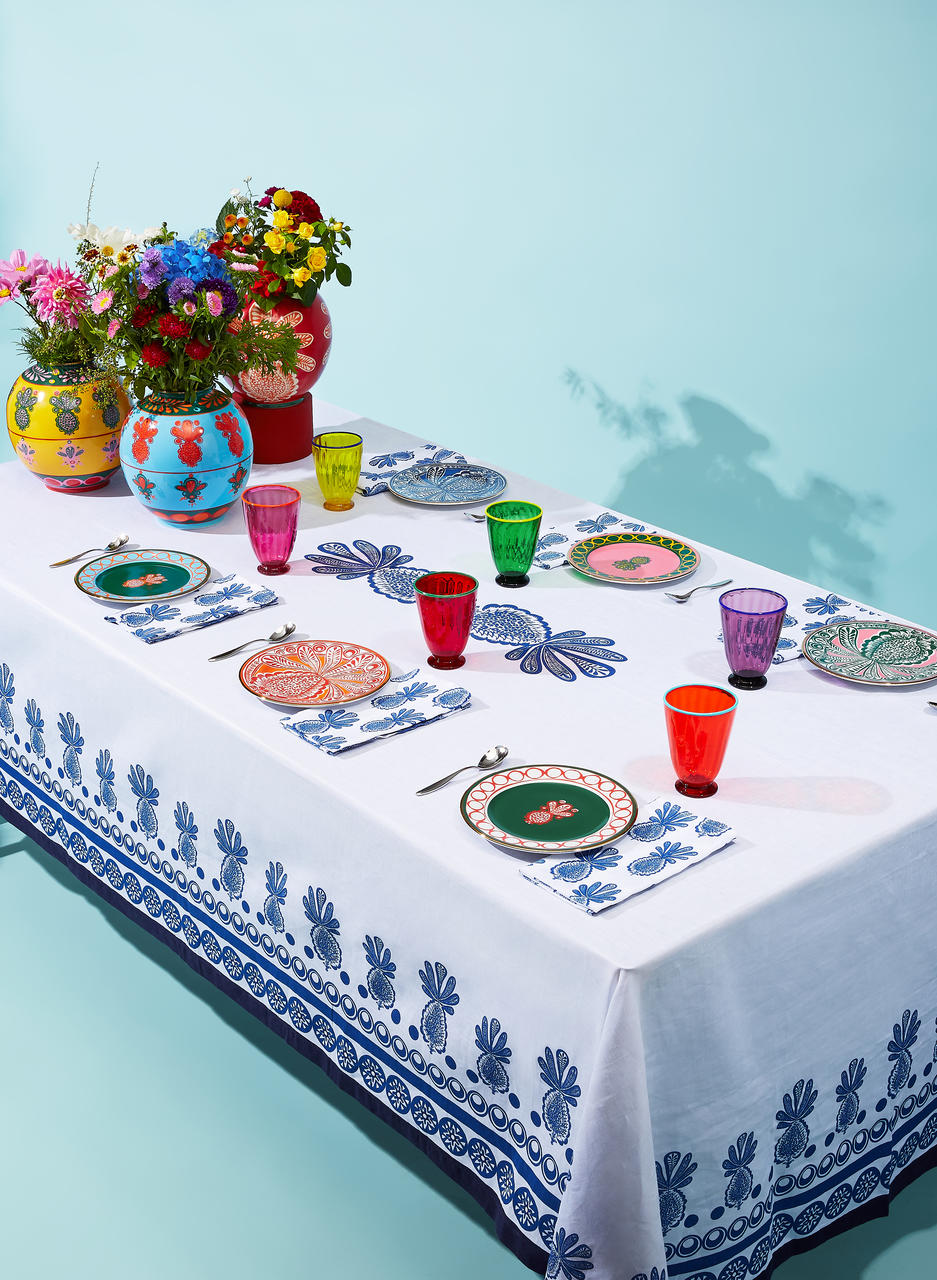 You don't have to be a maximalist to use colour in your home
"The great thing about La DoubleJ is that it is designed to work in layers of maximalism for whatever you feel comfortable with. If you are a minimalist, start with printed napkins, which are beautiful for indoors or outdoors. Go a step further and add on the pineapple printed dessert plates – they're great for aperitivo, too! Further still, add a printed soup plate, a table mat, and then the printed tablecloth. I tend to go over the top with pattern clashing, different glassware that doesn't match, and mixing in the silver ice bucket my parents got as a wedding gift with new pieces – that's all very Italian."
Want to try JJ Martin's tips first? Shop Lane Crawford's edit of La DoubleJ, plus more printed and eye-popping homewares below.