Ginger and Mite are the duo behind Hong Kong's luxury floral design boutique GINGERMITE, but they're family first. A former graphic designer and illustrator, Ginger joined forces with her son, a fashion editor and buyer, to launch their eponymous brand, and the partnership has brought them closer than ever before.

In honour of Mother's Day, we sat down with Mite to learn more about the joys of working with Mom, and the making of their labour of love.
HOW DID YOU START GINGERMITE?
MITE: After dedicating a great portion of her life to her family as a stay-at-home mom for over 25 years, Ginger had the urge to carve out her own path. I encouraged her to develop her interest in gardening and floral arrangements, and so she began working from the family's dining table, pouring her heart into every creation. To her surprise, all sorts of luxury brands and private clients welcomed her designs with praise, eventually leading to the inception of GINGERMITE as a brand, and her new profession.
WHAT DID YOU BOTH DO BEFORE STARTING GINGERMITE?
MITE: Ginger was a graphic designer and illustrator in the '90s – many of her works were featured on film posters and book covers in Hong Kong. Some may recall seeing her works in Little Mings Weekly – a children's magazine – where she illustrated for a column called Aesop's Fables. I work in the fashion industry. I started off as an editor for a fashion magazine before going on to become a buyer for a department store. I currently run GINGERMITE and I also have a fashion label, DEMO.
CAN YOU DESCRIBE YOUR WORKING PROCESS?
MITE: We focus on bringing joy and happiness to our clients – we'd like to think our beautiful blooms play a huge role in marking special moments. The creative process behind our work is very intuitive. We take inspiration from the beauty of oil paintings to create intricate designs using our own curation of flowers.
However, behind this glamorous façade is laborious preparation. From selecting the suitable plant materials to dethorning each bloom and cleaning the vases, being a floral designer is a lot of hard work that most people don't see!
WHAT HAS IT BEEN LIKE WORKING AS MOTHER AND SON?
MITE: We are very fortunate to be able to work together. Most people have their own work schedules and don't get to spend much time with their families. GINGERMITE gives us ample time for each other. The need to constantly face and resolve challenges as a team has helped us forge a partnership that transcends regular familial ties – something that we have found to be immensely valuable. We embrace experiencing friction at work because it helps us to understand each other more. It strengthens our bond.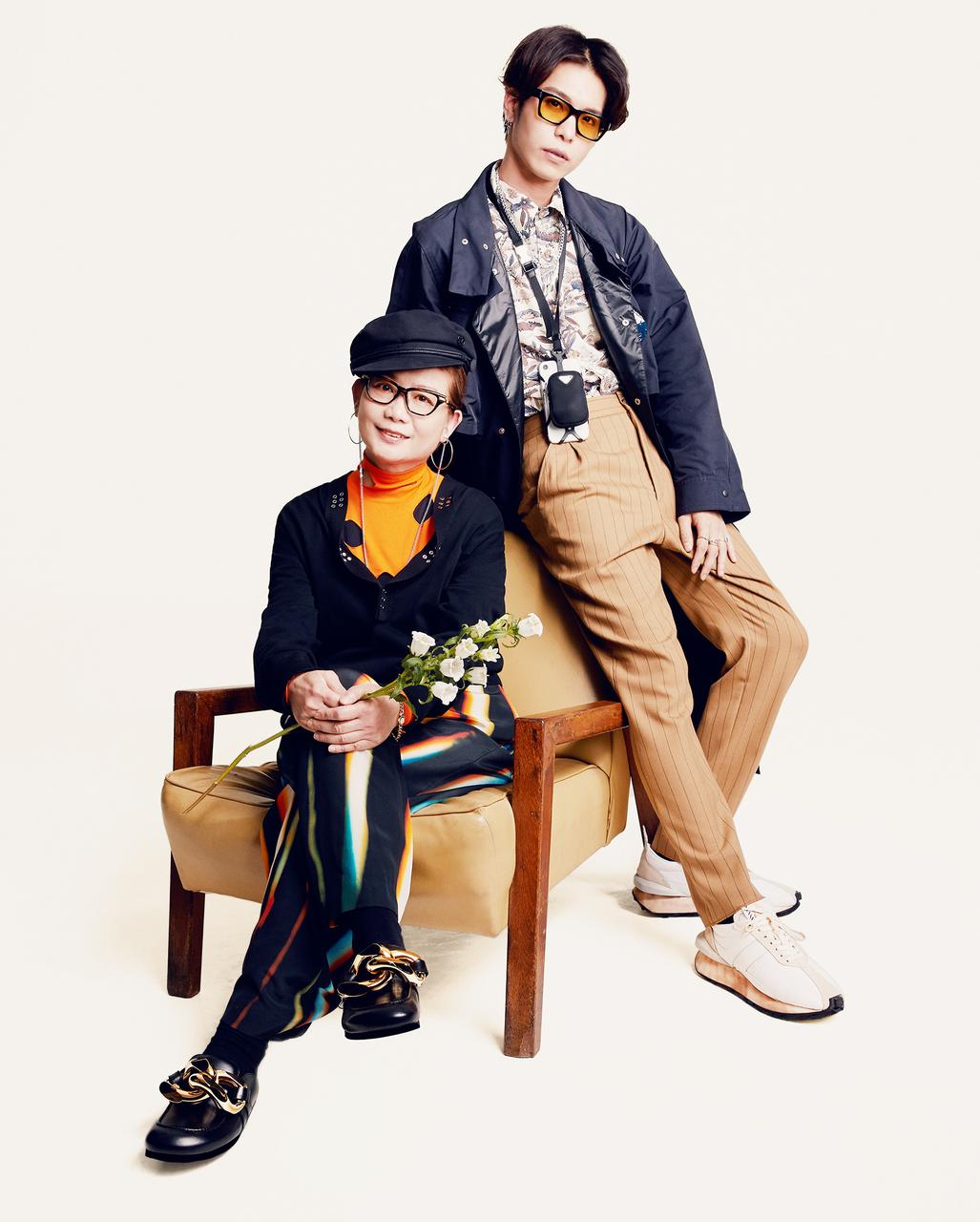 IF YOU AND YOUR MOM WERE FLOWERS, WHAT WOULD YOU BE?
MITE: To describe our relationship, I would pick the guava flower and the peony. We have incorporated these two flowers into our new logo to symbolise beauty and the seeds of happiness that we plant in other people's lives.
DO YOU HAVE ANY MOTHER'S DAY TRADITIONS?
MITE: Eating out and spending the night together was our ritual before starting GINGERMITE. Now, working overtime to coordinate with luxury brands and get orders ready for clients has become our new Mother's Day tradition!
WHAT ARE SOME OF YOUR FAVOURITE MOMENTS WITH YOUR MOM?
MITE: Ginger rarely bought toys for me when I was young. Instead, she would encourage me to use my creativity to create my own toys with paper and pen. From making and decorating my own masks to creating cut-outs to put on my own light and shadow show, I have countless memories of my childhood that I look back on fondly.
Thanks to Ginger, I have learnt to appreciate the importance of creating something on my own. Materialistic desires lose their significance over time, but the meaning behind your own creations is everlasting.
DO YOU HAVE ANY FUTURE PLANS FOR GINGERMITE?
MITE: We would love to open a floristry academy as well as a physical shop to be able to meet our customers face to face. We hope to bring ourselves closer to the people we love.
DO YOU HAVE ANY ADVICE FOR FAMILY DUOS WHO WANT TO START A BUSINESS TOGETHER?
MITE: Stay true to yourselves and be honest with all thoughts and ideas. It's crucial to appreciate and respect one another!
WHAT FLOWER BEST REPRESENTS LANE CRAWFORD?
MITE: Rosa chinensis would be my pick. Originating from China and introduced in Europe, several beautiful breeds are now the result of countless cross-pollinations with roses from other parts of the world. In the same way, Lane Crawford has been at the forefront of the industry by bridging and connecting Hong Kong to the global fashion world, widening its perspective of beauty.
WHAT WILL YOU BE GIFTING YOUR MOM THIS YEAR?
MITE: I would love to get her a designer chair from Lane Crawford. She goes straight to the home and lifestyle department whenever she visits!
Still looking for a Mother's Day gift for mom? Shop our thoughtfully curated edit below.