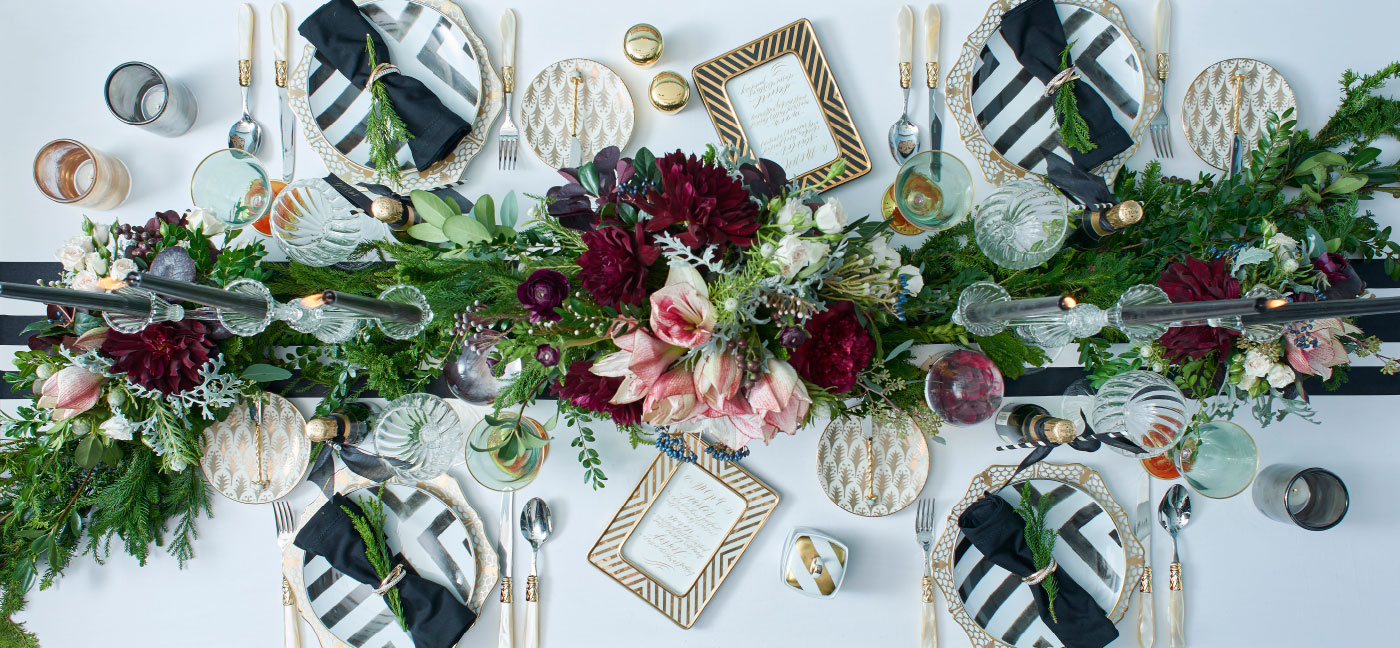 Give Something Special
The Lane Crawford Guide To Holiday Entertaining
Words

Harriet Quick
Table-setting and Floral Arrangement

Diane Nittke at Ellermann
The party season can be overwhelming even for the most seasoned of social butterflies. We all wish to bring good cheer, to look divine and to truly shine. Below is the guide to thriving in the month ahead. Equip yourself with our tips on RSVP etiquette, tabletop delights and inspired gift giving.
How to Be the Perfect Guest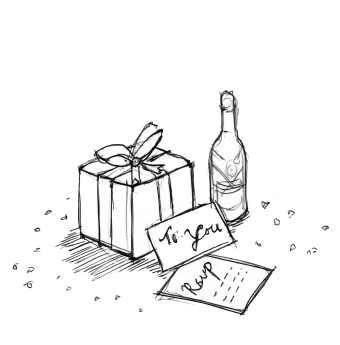 RESPOND TO INVITATIONS
Do reply within three days with a gracious yes or no – and never, ever a maybe. Maybes are a host's worst nightmare and show a lack of commitment. Whether you are the recipient of a formal card invitation or an email, do give notification ahead of who your plus one will be. Pay close attention to the location and the dress code. Casual Glamour is an oxymoron and Dress Festive RSVP might be best answered with a polite NO unless you enjoy fancy dressing in flammable materials. In this very social season, glamour should sparkle and shine. You don't want to be seen as a last-minute invitee caught in the sliding doors of style.
ARRIVE & DEPART
Always arrive within 20 minutes of the stated time. If the invite says sharp, be sharp and never allow a domestic or work crisis to cause a delay. No one wants to hear of little Johnny's earache or the deal that got away at Christmas time. Discreetly leave if time is pressing and without fanfare. If the invitation is for dinner, departure before coffee is acceptable. Conversely, never be the last guest to go.
TALK TO STRANGERS
A well-judged compliment never goes amiss. Be equipped with interesting observations that reveal your fascination with the cultural status quo and gently seek out the opinion of others. Park your ego at the door and allow everyone else to revel in the favourite topic of "me". And do posit devices in your clutch bag or pocket before arrival: one-to-one dialogue and eye contact have always been in vogue.
COMPLIMENT THE HOST
Do deliver thanks for the exceptional evening and make a note of the fine details, be they the fascinating diversity of guests or the moreish canapés. A small gift would be appropriate but make sure it's personal. A small book of poetry, a pot of fig jam or a beautifully written note card says thank you from the heart.
ENJOY THE EVENING
Eat twice and eat light as dinners can be very late so be prepared. Eat a light carb or protein heavy snack to prepare your body for the inevitable spikes of alcohol in the evening to come. Stick to either grain or grape – cocktails can be lethal and always guard the 1 + 2 rule: two glasses of water for every drink. That way you will have the energy and wit to see you through the night and the ones beyond.
THE ART OF TABLE DRESSING
Hong Kong's leading flower boutique and event atelier, Ellermann, knows a thing or two about making sure that your party delivers on impact. Creating memorable events from intimate dinners to epic weddings, the team is used to coming up with creative ideas from the drawing board through to execution.
Diane Nittke, the brainchild behind Ellermann, shares her table-dressing philosophies and fail-safe tips and tricks for making your festive gathering the talk of the town.
MIX & MATCH
"Use more than just one kind of china to avoid looking like a restaurant or hotel. In a formal setting, it can also look too sterile. Add personality by using a mix of different styles. I personally love using vintage pieces and mixing them with more contemporary finds."
THE FLORAL CENTREPIECE
"A table setting is not complete without flowers. They make the perfect centerpiece as they say you are not trying too hard. The key is to make it look effortless – as if you just picked these flowers from your backyard – so you can never go wrong with seasonal flowers arranged in a way that is not too constructed."
SEATING PLACEMENT
"It is an absolute must to think about your seating arrangement. The seating arrangement is also essential as it can set the dynamics for the evening ahead. Always use name cards as it feels thoughtful and more inviting."
THE FINISHING DETAILS
"Beauty is in the details and I think the more personal the finishing touch, the better. Use pieces that tell a story and can serve as a talking point for the dinner. Don't forget to always polish your glasses, use non-scented candles to create ambience through lighting and have good napkins – the latter is essential. You want to use something that can last four or five courses."
HAVE FUN
"Last of all, you want to have fun. You want your guests to be comfortable and enjoy themselves so don't overthink it. Even if you don't have the most expensive linens or serveware, if you make it personal and relaxed, you will have a great, successful evening!"
HOSTING DO'S AND DON'TS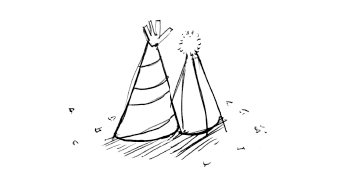 PARTY GUESTS
Invite extraordinary people, and your evening will prove equally rich and memorable. Remember the possible connections between diverse friends and new friends will no doubt be made. Place couples at diagonals but never next to one another and at the first sign of a clique, politely break it up. Make sure you have two friends that will help you entertain to your best.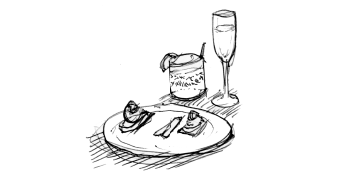 DRINKS & EATS
Simplicity is preferable to complexity. Serve cocktails from giant pitchers garnished with fresh herbs; place white wine in buckets of ice and red in decanters. Big generous platters of food will promote a sharing spirit. Avoid trips to A&E at all costs and ask guests to inform you of allergies. A bowl of chocolates and cherries on ice make the perfect dessert.
THE WITCHING HOUR
If your morose uncle, upset ex or quibbling cousin is proving a test, offer them a cup of tea and transport home. After all, many of us have to work in the morning.