Meet Tim Coppens
The Belgian-born designer makes his Lane Crawford debut with his skateboarding-inspired Spring collection
Belgian-born, New York-based designer Tim Coppens is not your typical fashion designer. Despite being trained at the internationally acclaimed Royal Academy of Fine Arts in Antwerp, his down-to-earth, pragmatic approach to the industry is what really sets him and his collections apart. He's the kind of cool guy you'd meet at a friend's place, who loves to skate, listen to great music and just happens to design extremely sophisticated, athletic-inspired clothes that have earned him several accolades including the CFDA Swarovski Award for Menswear. Lane Crawford sat down with Coppens to discuss his roots, his collection and the influence of performance wear on the industry.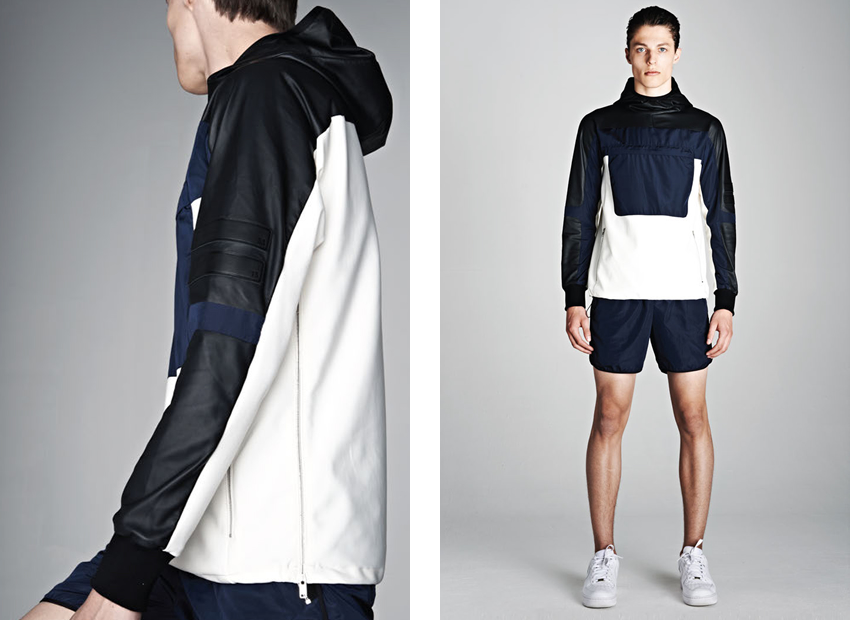 What were you doing before you launched your own menswear label?
I was working in sports-performance design for RLX at Ralph Lauren – it's a lifestyle part of the brand with an active component to it. It was my first job in New York so it was good to come from Europe and get to know the city and how it works. The first time I went to New York I knew it was a place I wanted to end up in. Ralph Lauren was great but eventually I wanted to do my own thing.
There's a distinct sportiness to your collections – where does this influence come from?
I guess it has always been there, seeing as I worked for Adidas and RLX, but even before that, it was always there. When I went to the Academy in Antwerp, I had been skateboarding for 15 years. Actually, the first time I went to New York it was really just to skate. My friends and I were just a bunch of kids, nothing was planned, and coming from Europe with very little money, we had to move a lot to find innovative places to sleep. The whole street culture, the way hip-hop influenced whatever I was doing back then, that's all a huge part of my inspiration and something I feel close to. That lifestyle has a very active tone to it, it's very dynamic. Skateboarding is a large part of the collection's roots and I think a lot of a designer's aesthetic isn't just impacted by where they've worked, but also how they translate life experiences into their work.
What are your thoughts on how sportswear and performance wear has influenced menswear today?
To me it's very natural. If you look at my graduation collection from 1998, I used neoprene and technical fabrics, and there are a lot of similarities with what's happening right now. Fashion is cyclical but when it comes back around, everything that's happening in the world gets added to it and it becomes a newer version of what it was before. For performance wear, I think a lot of it is also to do with resources available to young designers. There have been so many changes to the industry and innovations, like technical materials, laser cutting, bonding – and that opens up new doors and creates new visions. I believe a lot of people these days don't see menswear as just a pair of pants and a shirt – it's goes beyond that and extends into culture, music and everything else. The whole performance wear influence is something that will constantly evolve into something else, not just a trend.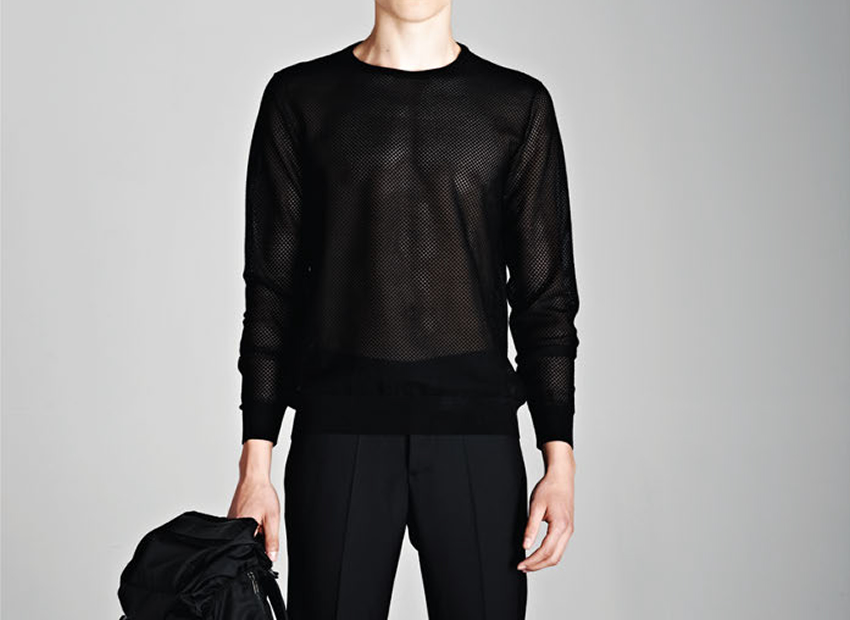 What was the starting point for your Spring Summer 2015 collection?
It's always a bunch of things but I always go back to the same era where I grew up, like the late 1990s – the time when I was going out a lot. The musician Ian Brown is one of those people that I really looked at. I think he has a really close link to street culture and the whole mix of Tokyo, UK and New York's urban scene in the 1990s has always been very intriguing to me. The print for this season is called Jungle Sunrise – it consists of very colourful parrots and was inspired by a couple of record album covers. Record covers back then had this hand-done quality to them, so the digital prints I did for Spring aren't very sharp, they're blurry.
Can you describe the fabric selection process for your designs?
I go to fairs and then I'll start with a couple of hundred different fabrics and go through them. It's all about layers, there's not really a recipe. Sometimes you have a really clear idea and you'll know what kind of fabrics you want to use for it. But sometimes it's the other way around. Like last season I came across this fabric that they use in old mountaineering gear and I was listening to this record. The singer's voice, coupled with the fabric, the idea of mountains, and suddenly a whole story starts to form. And that's the fun part of designing, for me. My inspiration is always multiple things and layers.
Describe the Tim Coppens guy and what a typical day looks like for him.
He wakes up early and he gets coffee in a paper cup. The Tim Coppens guy likes good coffee, but he doesn't always need to have the most fancy cup of coffee and he gets a bagel from the deli. My guy is a fast guy, he likes sophistication but at the same time he's grounded. He likes a really fine dinner but he also likes bagels. He likes fashion but it's not his main interest and he's aware of what's happening in the world. He goes out but he's very serious about what he does and there's a distinct activeness to him, which translates into the clothes he wears. My collection isn't static, even if it's a suit, there's a certain movement to those clothes. He moves fast.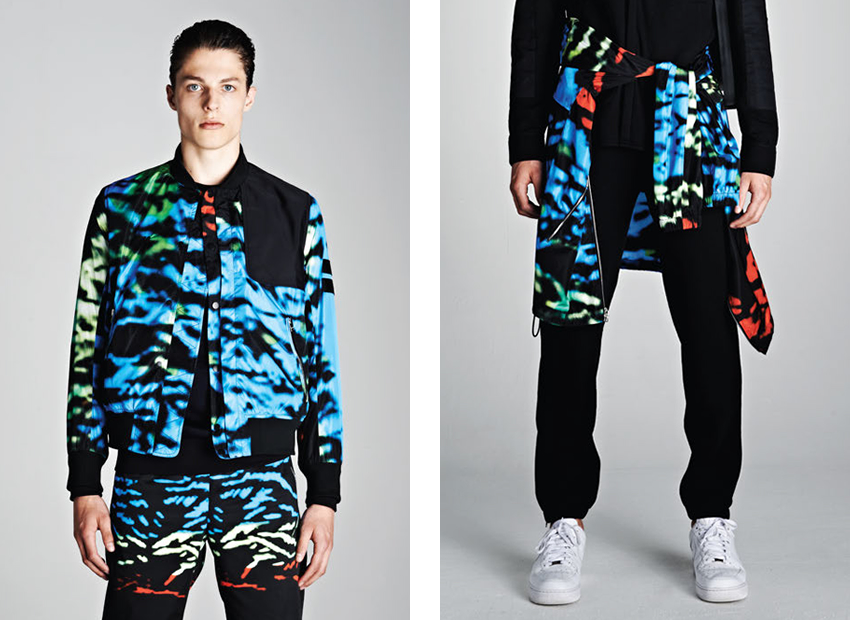 What's the story you want your clothes to tell?
When I use a certain print and that print has a history and I do things in a certain way, I want all those layers and stories to translate into the clothes. But at the same time I don't think it has to be too literal, it's open to interpretation. For our Spring collection show, we had bandanas as part of the styling, inspired by the whole football hooligan vibe. The models were all styled with hair like Ian Brown and there was a whole story around it. Clothes are clothes, but the story you tell, a lot of it is crafted through the styling.
What excites you about the market here in China and Hong Kong?
It's a growing market. There is a lot happening and there seems to be more enthusiasm about clothes than in Europe or the States. I feel Asia is a very young market and it's a different world. I'm always so surprised when I come and I realise it's a completely different story to elsewhere, and that's the exciting thing, because it opens up opportunities to do things differently. It's nice to come here and be confronted with that.
Do you have any advice for young emerging designers?
Before you start, make sure you think about what your brand could become in five years. Do you want it to become something in five years, and if you do, how can you achieve that? I think a lot of young designers tend to think one or two seasons ahead but never beyond. If you do that, you have a limited life span.
If you weren't in fashion what would you be doing?
There are a couple of things I would have loved to do. Be an athlete, for sure, like a professional boxer or cyclist. When I was in the Academy, we had Paul Smith come and give a talk at the school when I was in my second year. He was talking about how if he hadn't had an accident with his bicycle, he would have become a professional cyclist. I thought that was interesting, because it reminded me that some things you can never really plan. When you're in a fashion academy like Antwerp, everyone is very into fashion. But for me, I was never very into it the way others were. I started with architecture for three months and it got too theoretical so I went into fashion and it grew on me. It was easy for me, because I slowly realised I was so passionate about it without having to give in to it. It was easy because I enjoyed what I was doing.