AMBUSH:

Better Together

The Japanese creative duo AMBUSH prove that we're better together
Words by Anne McManus / Photography by Filep Motwary / Video by Brano Gilan
When it comes to Tokyo's vibrant popular culture, the husband and wife duo behind AMBUSH are a force to be reckoned with. Described as one of the country's foremost power couples, designer Yoon and hip-hop icon Verbal fuse the Japanese music and fashion scenes. Originally designing high-end experimental jewellery, they have since extended the line to include a comprehensive line of unisex apparel. Success has been swift and global, with numerous high-profile collaborations and supporters, most recently being nominated a 2017 LVMH Prize finalist. And the secret to their success? Yoon Ahn explains the importance of coexistence and originality.
No man is an island entire of itself;
Every man is a piece of the continent,
A part of the main;
[…]
Any man's death diminishes me,
Because I am involved in mankind.
And therefore never send to know for whom the bell tolls;
It tolls for thee.
What's your understanding of 'No man is an island'?

It's a bit like the universe, we're all little stars and together we make up the galaxies and the universe. I like to look at it that way. We shine, we do our own thing, we exist, but because we coexist with each other, it makes us even more beautiful.
Who was the first person whose style first made an impact on you?

The first person whose style first made an impact on me was Kurt Cobain from Nirvana. I grew up in Seattle and I think that's when the whole grunge scene blew up. As a kid - watching that on TV - I think that changed a lot of us.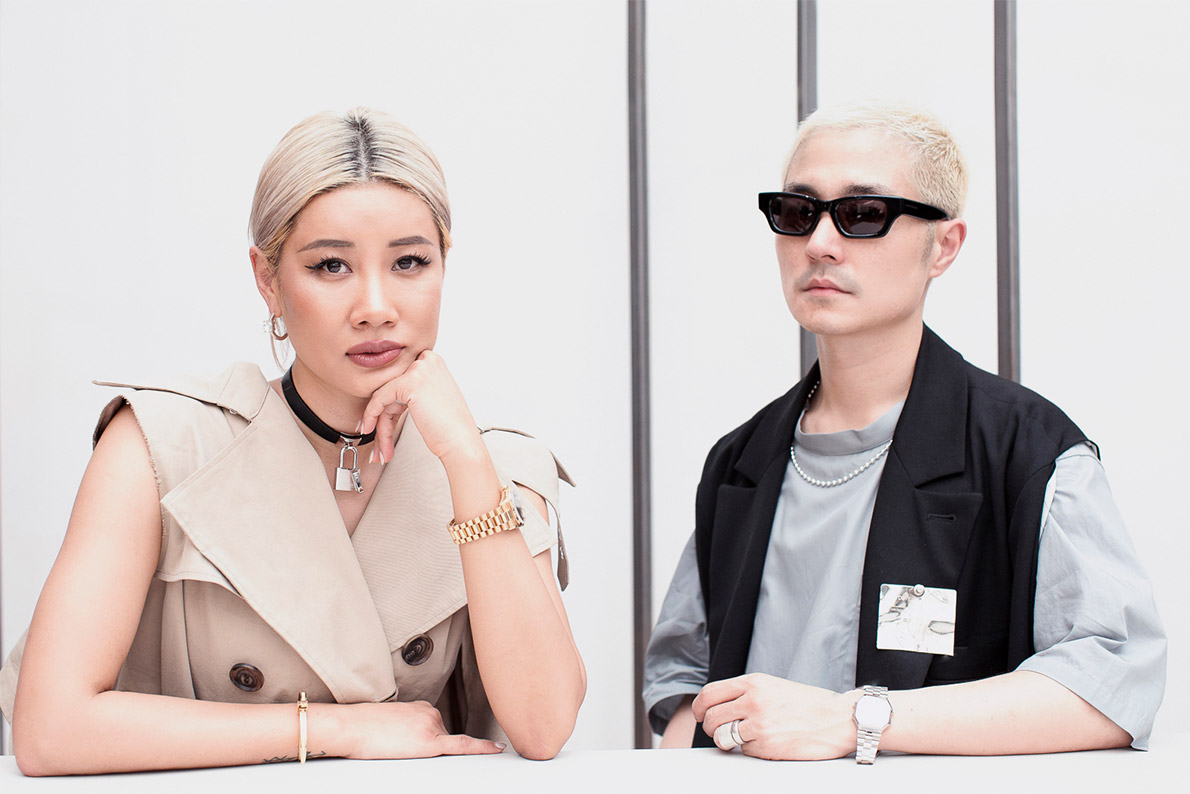 Is there someone who has been a big influence on your career?

Definitely Steve Jobs, I like his philosophy on ideas and creation. He may not have been in the fashion industry, but the way he built Apple, the way he applied things that he naturally had an interest in and then put it back in to the physical computer to make our lives better influenced me. I think in fashion, as designers, our job is to bring something to the table and make people feel good and give them something to dream about. It's easy to do something very avant-garde and crazy because you're only thinking about expressing your own ideas. I also think about how whatever we design should reach as many people as possible, but still have originality, bringing something new to the table.
Is there anyone you rely on a day-to day basis?

Verbal, definitely. We split what we do. He takes care of the 'behind the scenes' things so that I can focus on the creative elements.
Who was the last person that made you stop and think?

The last person that made me stop and think was Joel Arthur Rosenthal. He is a jewellery designer that moved to Paris in the 1970s from the US and started making jewellery in his tiny store in the Vendôme. He makes custom jewellery for specific people when he feels like it. His creations are amazing - out of this world. He's the kind of designer that other designers look up to. We started as a jewellery brand, and at dinner last night I asked him if he had any advice for us. He told me three things: never listen to anybody, never think about the price and finally, make sure you do something like no one else is doing, then you will be set with what you do. It was nice to hear that from someone who has mastered the craft and made a huge impression in the industry.
Could you tell us about the relationship between AMBUSH the brand, and Yoon the person?

In a way, the collections that we put out are a by-product of what we are going through at that time. Our latest collection was inspired by John Hughes movies from the 80s, particularly The Breakfast Club. There are five distinct characters that exist in the movie: the princess, the brains, the jock, the basket case and the criminal who have all been put in Saturday detention together. At first they can't stand each other but in the end they come to understand that they all have similar problems and no matter what they look like on the outside, they are all the same. I was watching it thinking that it was kind of like what we are going through as a brand. We were recently LVMH Prize finalists, which in a way made us feel like we were graduating from high school. There are so many things that we want to do and the many faces that we put out there... but they all coexist.