The Guide to
Christmas

Table Setting

How to wow your guests at your next

festive soiree
Styling by Diane Nittke at Ellermann, Pacific Place home store
When it comes to creating wow-factor table settings, nowhere does it better than Hong Kong's leading flower boutique, Ellermann. Led by Diane Nittke, the brainchild behind the renowned florists that has just opened at Lane Crawford Pacific Place home store, the team inspire with a poetic and contemporary approach.
Here, she shares with us her top three table-settings for the festivities ahead.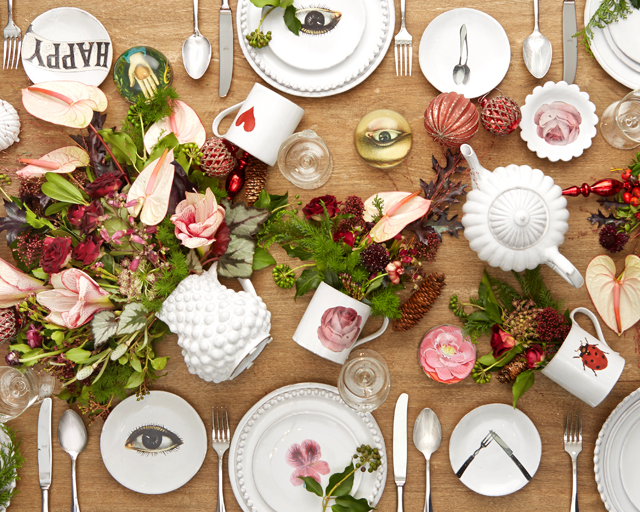 A Painterly Picture
"The hero flower in our Lane Crawford-exclusive Ellermann bouquet collections, Anthuriums, carry a meaning of hospitality so are the perfect choice for a festive dinner gathering. To enhance classic Christmas colours, we also used John Derian paperweights and accessorised the table with baubles to give it an extra festive touch."
Top Tips
Instead of using classic vases as vessels for the flowers, use tableware items such as jugs, teapots and mugs to create a painterly and artistic setting. Lay them flat and let flowers 'spill out' creating arrangements that flow out and onto the table.
For big table settings like this, always keep in mind to have a variety of sizes and heights of arrangements so the florals are not too uniform but low enough so the guests sitting opposite each other at the dinner table can see one another.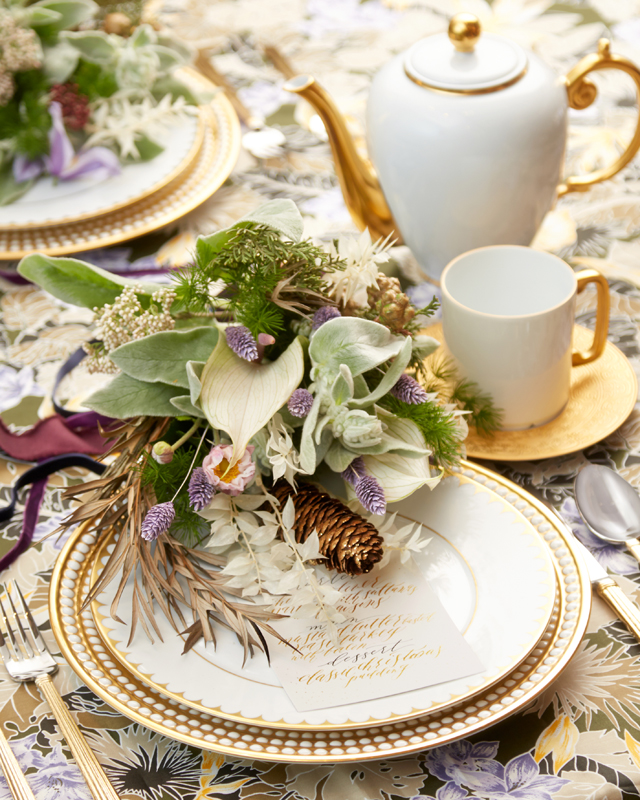 Afternoon Tea
"The inspiration behind this was taken from interiors and wallpapers. This is a more formal table setting juxtaposed with a bold print cloth and a loose posy arrangement for a modern and maximalist statement in one. The setting is opulent yet sophisticated and elegant with a quirky twist, making it a beautiful yet iconic setting."
Top Tips
Don't fear colour or bold and clashing patterns. It's the little details such as adding handwritten calligraphy place cards or menus that will make it extra memorable.
Use unconventional ingredients like pine cones to give your floral arrangements a twist.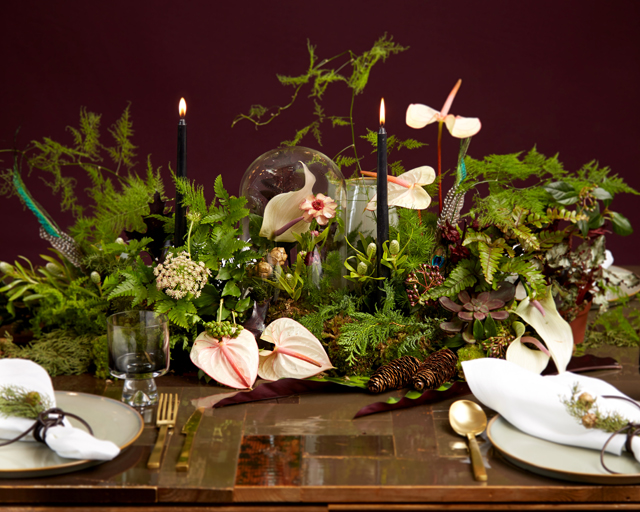 Whimsical Christmas
"When it comes to creating a whimsical arrangement, there are no rules for specific ingredients. It's less about a floral creation and more about creating a contemporary look with a mix of different plants and foliage combined with Anthuriums and festive ingredients such as pinecones and feathers. Here, we used Christmas greens as the base and the main component of the table landscape before adding florals and ornaments. Tapered black candles give it a more masculine touch and contemporary mood while brass cutlery offsets a rich accent colour to the overall look."
Top Tips
Think outside the vase - you have the whole table to play with so don't be afraid to create a full table landscape.
It can be monotonous to always go for reds at Christmas so break conventions and go for something entirely unexpected for a modern touch.