Design Wanderlust: The Magic of Morocco

With its bohemian allure and rich culture, Morocco is an endless source of exotic inspiration. We capture the essence of the sun-soaked souks of Marrakech with our edit of the best crafts and home furnishings in a new curated pop-up space in store.
Taking much of its cultural inspiration from French, Arab and Spanish countries, Morocco is the perfect blend of exoticism and magic. Enthralling images of hidden treasures, secret mystics and 1001 Arabian Nights under the stars speak of another world and are all part of Morocco's magnetic appeal. It is no wonder that the world's most esteemed tastemakers have all been enchanted by Morocco's seductive spell.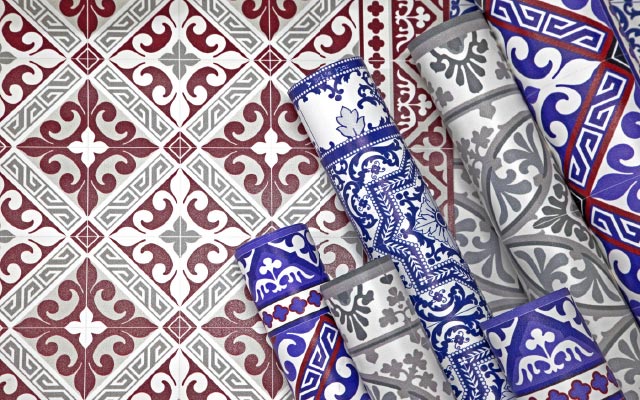 Deep in Marrakech's labyrinth of alleyways and narrow streets, traditional arts and crafts are alive and well; encaustic paintings, where coloured clays or pigments are mixed with hot wax on ceramics, and tilework known as zellige, where enamel chips are set into plaster, create the most opulent walls, ceilings and floors.
Walk into any traditional Moroccan home, or riad, and discover an explosion of electrifying colours that mesmerise and enchant: brilliant cobalt blues and turquoise are thought to ward off evil spirits, earthy ochres and saffron shades create warmth, while brass, bronze and gold add a touch of ornate, old-world charm. Intricate geometric patterns chiseled in stone, carved in wood or adorned on tiles use repetition and symmetry to stunning effect.
The easiest way to incorporate the vibrancy and excitement of Morocco into the modern home is through colour and texture. Famed for its rich ornamental textiles, we fell in love with Khmissa's range of vintage wedding rugs hand-woven out of wool, cotton and linen by Berber brides' female relatives in Northern Morocco. Each piece is entirely unique and is thought to bestow fertility and good luck upon newlyweds.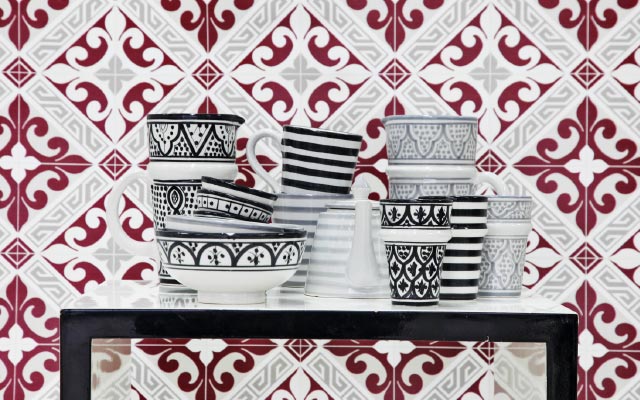 Beija Flor offers a modern alternative to the traditional rug by printing its decorative patterns on an easy-to-maintain and durable vinyl material. Consider laying these across dead spaces - between rooms or beneath dining tables - for a dramatic statement.
Frequent entertainers will love Chabi Chic's range of handmade terracotta dining wares which feature traditional colours and prints, whilst Khmissa's impressive line of intricate glass teapots and tea glasses make a beautiful addition to any collection.
Explore the best of Moroccan-inspired homeware in store at Lane Crawford Pacific Place home store – and bring a hint of Eastern magic to your home.